YoYotta Automation
Do you have lots of LTO tapes? Do you need to create large archives and restore media efficiently?
Put the tapes into a Dell, HPE, IBM, MagStor, Oracle SAS, Overland-Tandberg, Qualstar, Quantum, Spectra, StorageTek or Tandberg Library and let YoYotta Automation take control
YoYotta Automation can control one library and up to 4 LTO drives, these can be any mix of library or standalone
YoYotta runs well on the new Apple Silicon M1 Macs and macOS Monterey or Big Sur.
Any Mac running Big Sur will need new software drivers for SAS and FibreChannel interface cards and Thunderbolt LTO drives.
MagStor have released new drivers for their Thunderbolt 3 LTO drives and we have tested them with M1 Macs.
ATTO have released new drivers for their interfaces and these have also been tested with M1 Macs.
TAR restore not supported on M1 Macs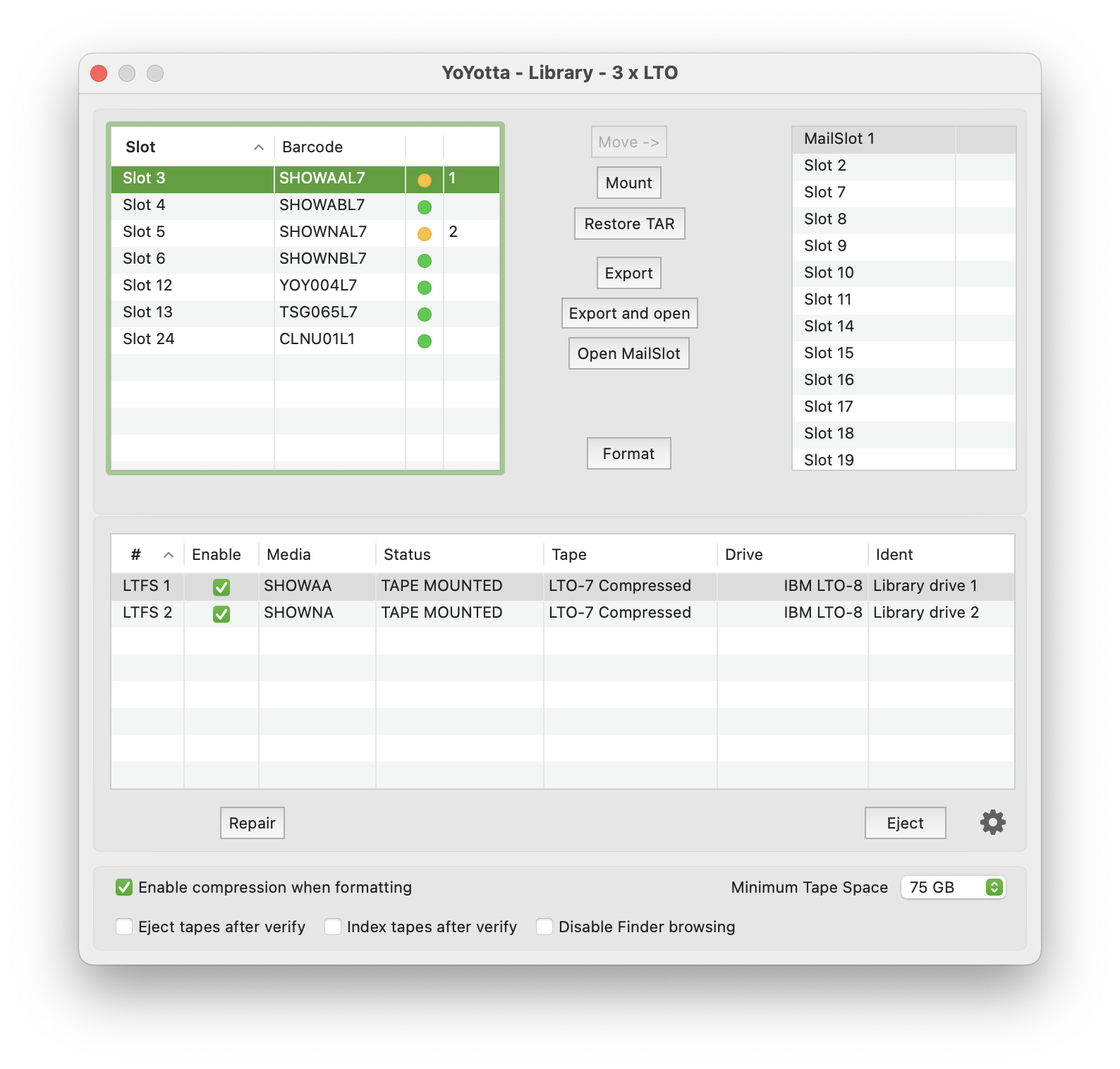 Automation tapes and drives
YoYotta Automation monitors the library for changes and shows all the loaded tapes on the left, the empty slots on the right. The tape drives are shown at the bottom. There are buttons to manually move, format, mount and eject tapes, but YoYotta will do all this automatically.
YoYotta Automation supports up to 4 drives and 160 tape slots. Both mail slots and ordinary slots can be used for tapes, so no spaces are wasted. However it can be quicker to open just the mail slot on a library so the Export button will automatically move a tape into a mail slot.

Make sure that the full 6+2 barcode label is shown for each tape in the table. For example here Slot 2 has a tape barcode YY8021 with L8 indicating LTO-8.
If only 6 characters are shown then adjust the barcode settings using the LTO library webpage.
For all libraries set left alignment for barcode labels and 8 character label length.
HPE Barcode Length Reported to Host : 8
IBM Barcode Length returned to Host : 8
Quantum Set Media Barcode Format : Plus Six

Why a limit of 4 drives? With the faster speed of LTO-9, LTO-8 and LTO-7 it's hard for a single computer to provide enough bus bandwidth to keep 6 restores or 3 jobs writing to dual tape sets. This is a typical workflow for a 6 drive library and is before looking at NAS/SAN speed. There are YoYotta customers with larger libraries and by partitioning the library you can use two or more YoYotta systems. The recent Mac mini is ideal as an Automation Mac. Splitting up the workflow like this maintains high performance. Use YoYotta Server to sync the metadata from each Mac.
---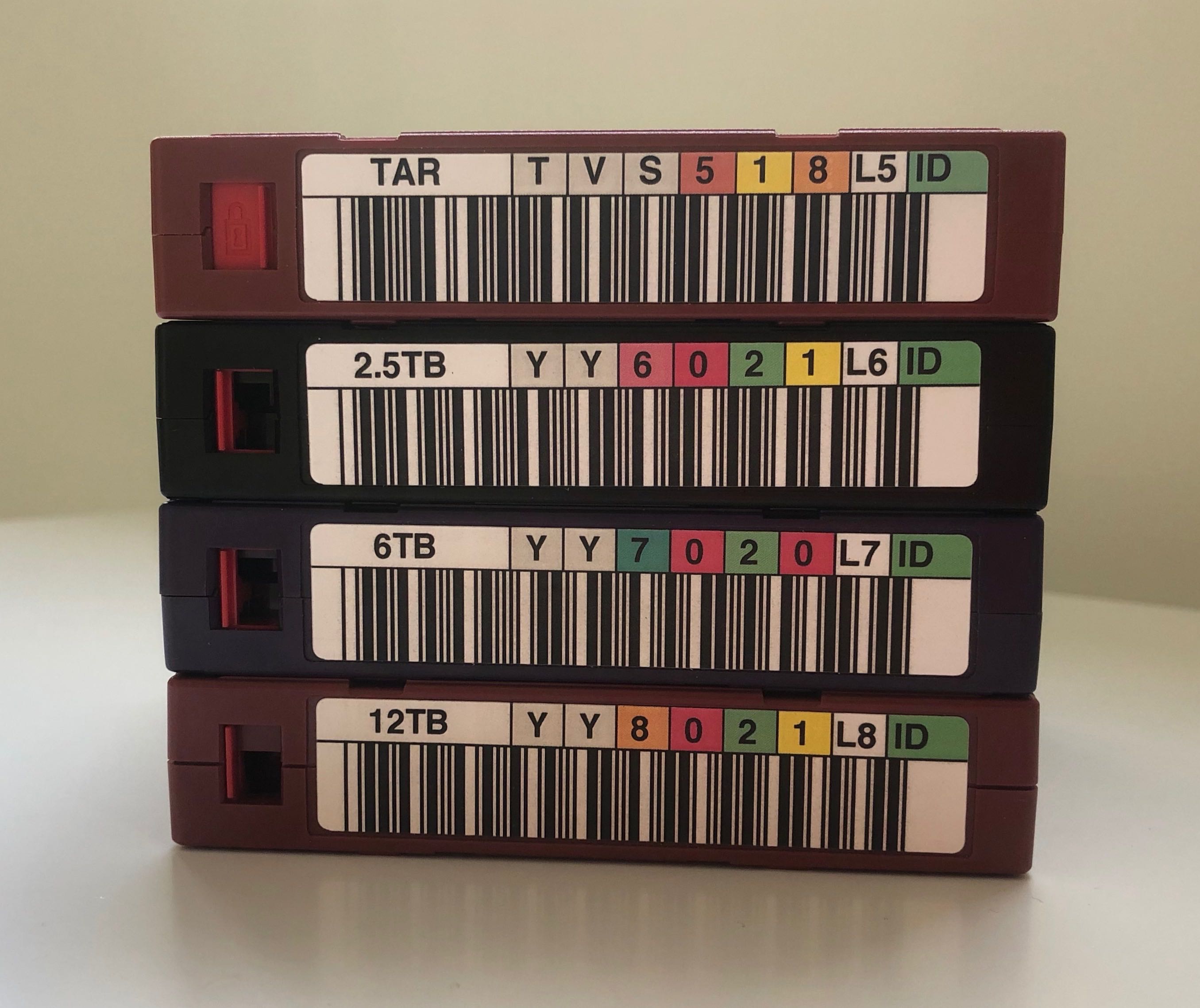 LTO tapes
All tapes must have barcode labels
The labels have a unique 6 character code with either L5, L6, L7, M8, L8 or L9 on the end for LTO-5, LTO-6, LTO-7, LTO-8 or LTO-9 tapes.For example 123456L5, ABCDEFL6, YO1234L6, 17376AL5.
YoYotta will use the barcode to format the tape. No need to manually enter the barcode. This is an LTO standard, using more than 6 characters means that the tapes will be difficult to use.
We can supply LTO tapes in Europe with custom YoYotta labels printed on durable plastic. They have a standard barcode, plus you can add unique text labels on the left as shown opposite. So you can clearly label Main and Safety, or add a project ident. Unlike other labels each tape can have a different code, you are not limited to a set sequence.
Since LTO-7 IBM make all the drive mechanisms. We supply IBM Barium Ferrite tapes for perfect compatibility.
Contact support@yoyotta.com for a quote.
---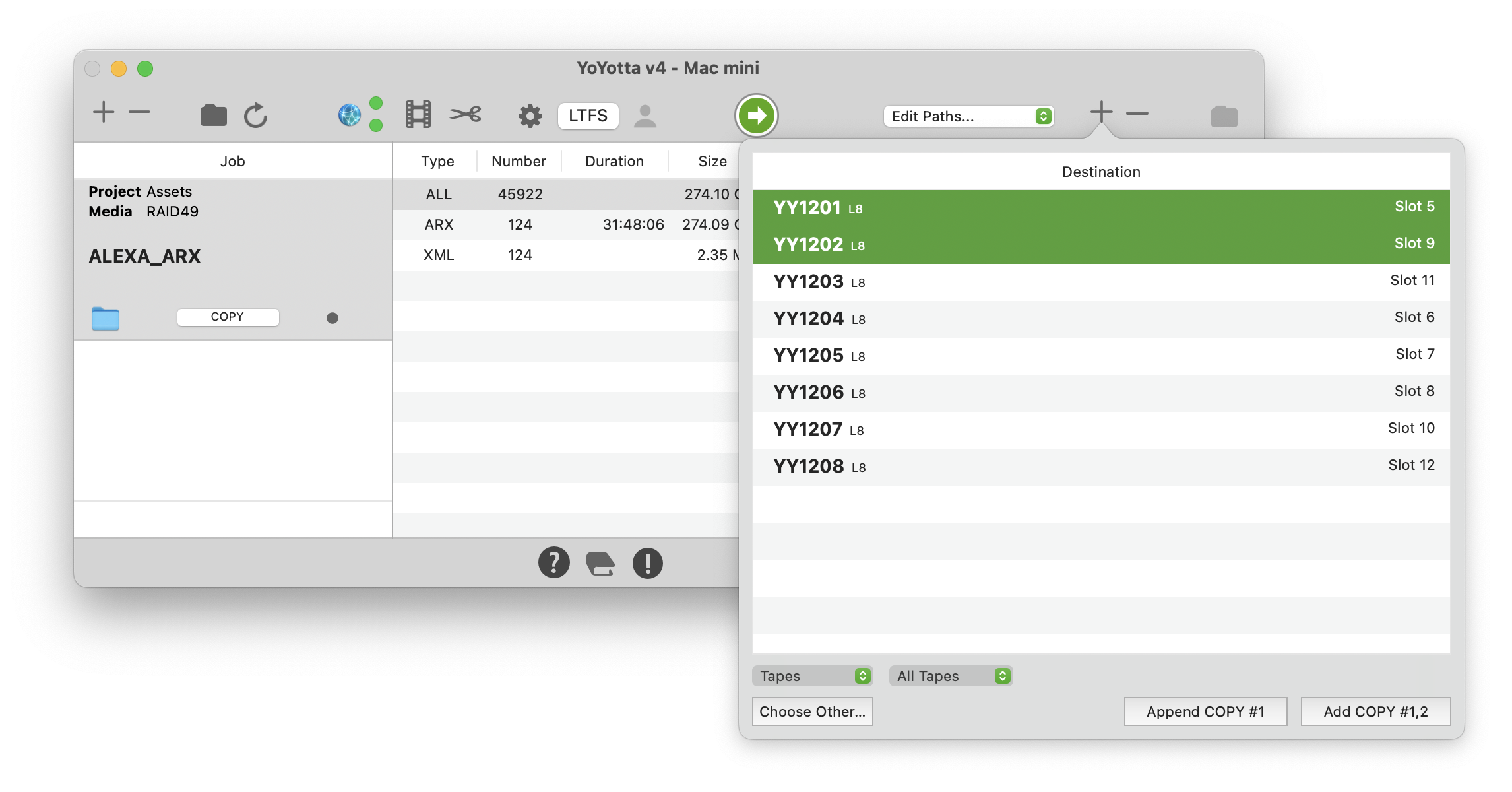 Select the tapes needed for the archive
In this example we have a two drive library and need two copies. So select a main and safety tape and click Add COPY #1,2.
---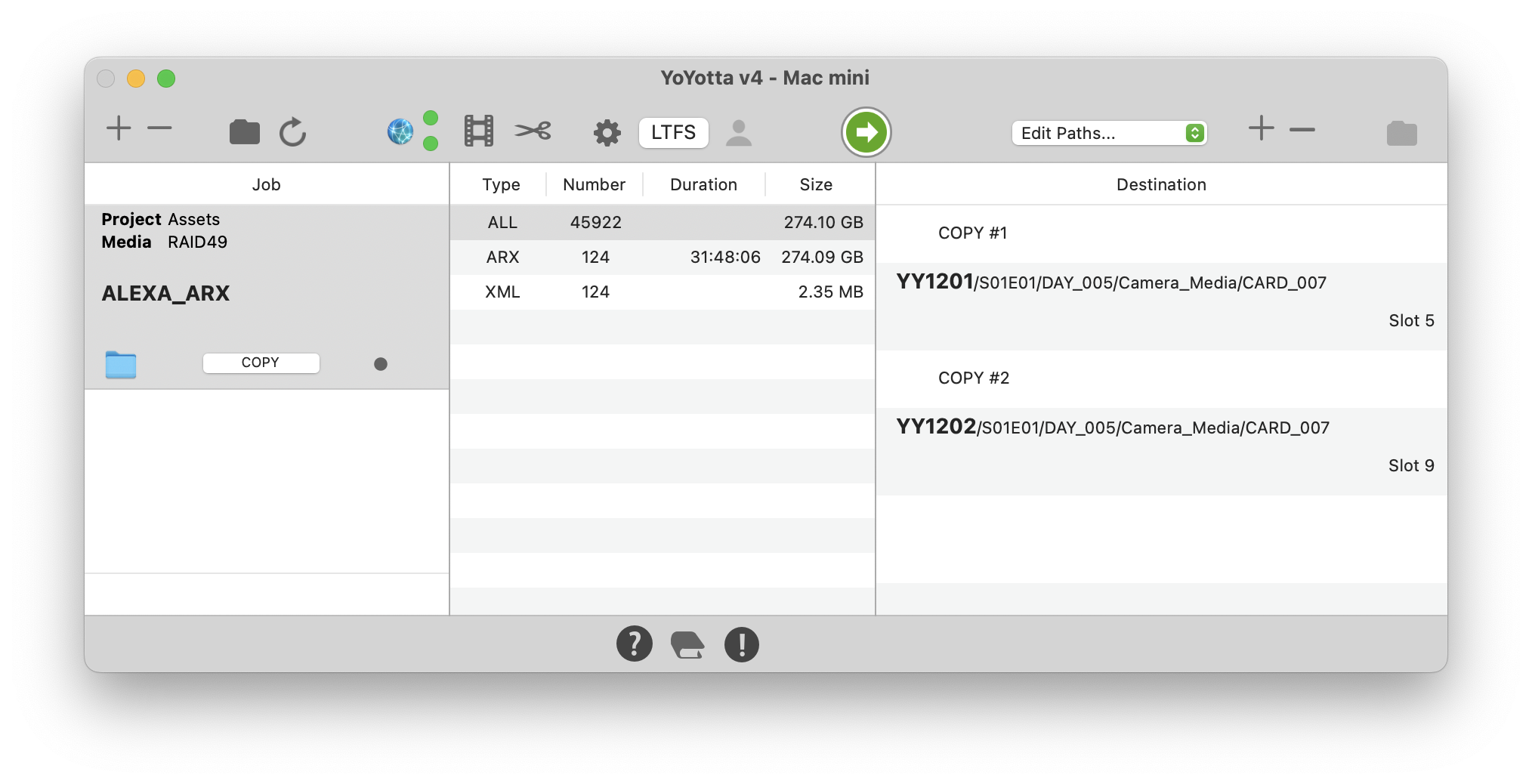 Start the archive
Blank tapes will automatically be formatted with the correct barcode, saving time.
---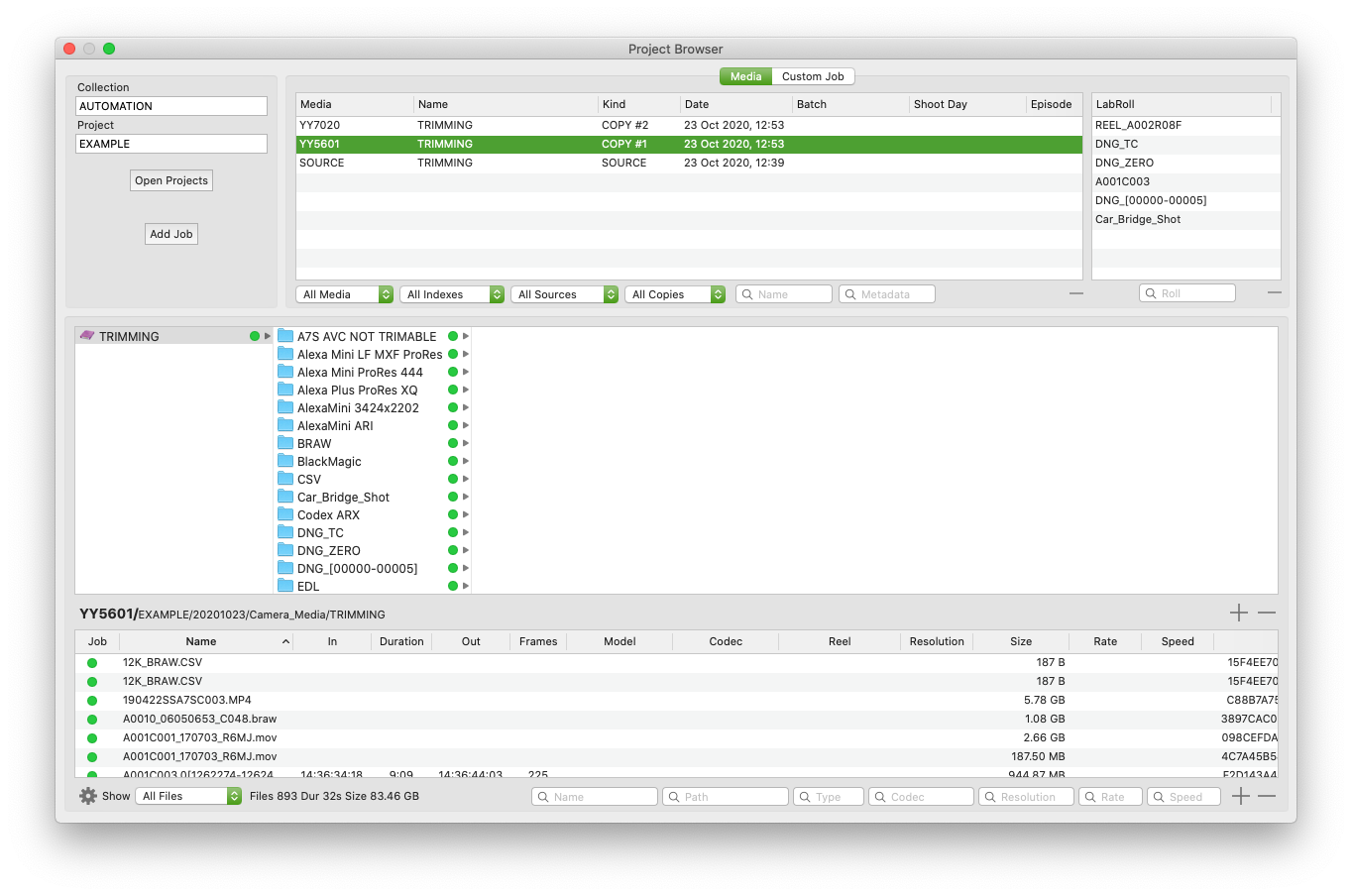 ---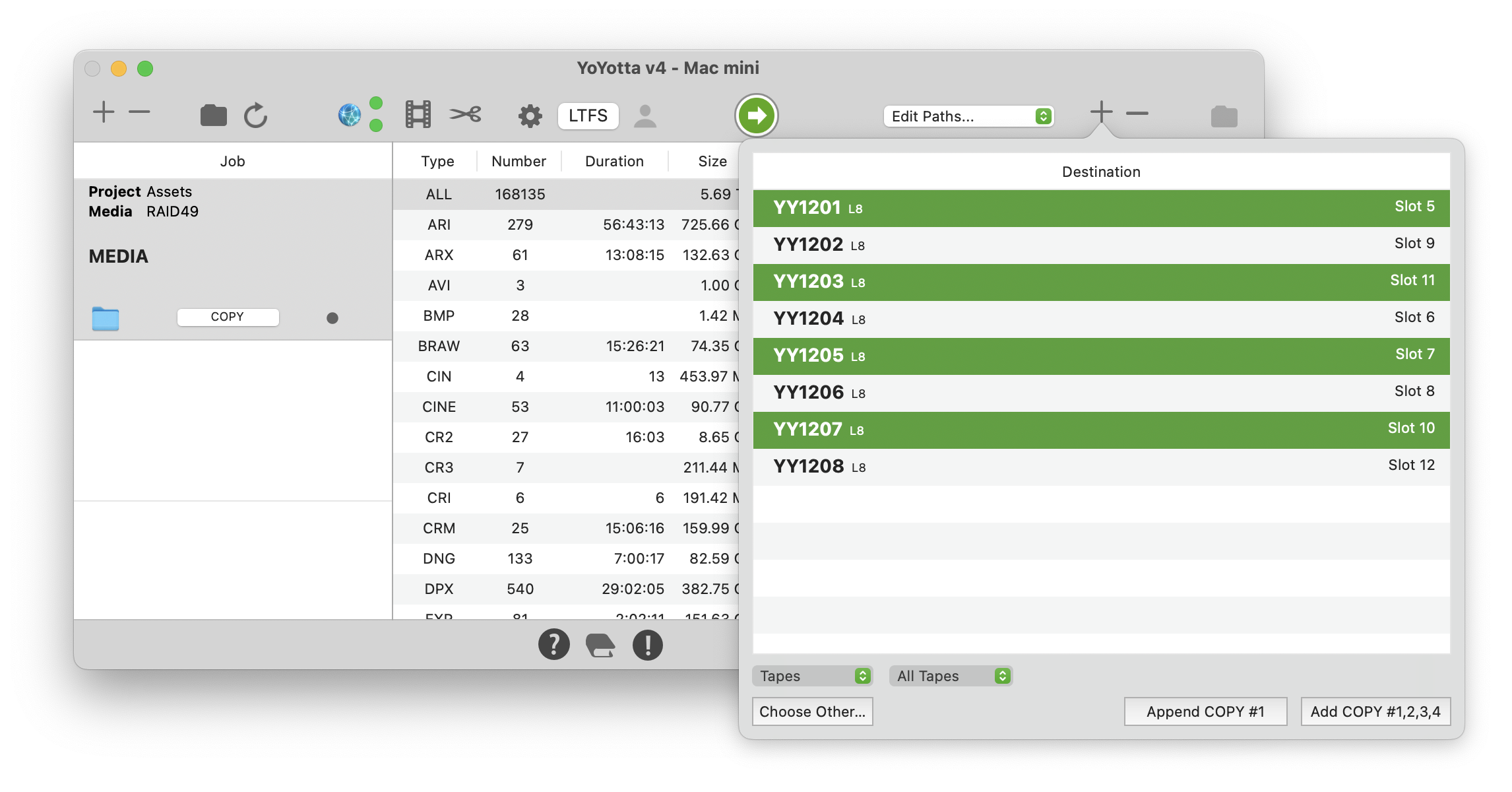 Append more tapes for larger archives

Add as many tapes as you want as destinations. Make sure you append them to COPY #1. This will make a single copy spanned across multiple tapes.
If using a two drive library and making two copies in parallel, then also append enough tapes to COPY #2.
---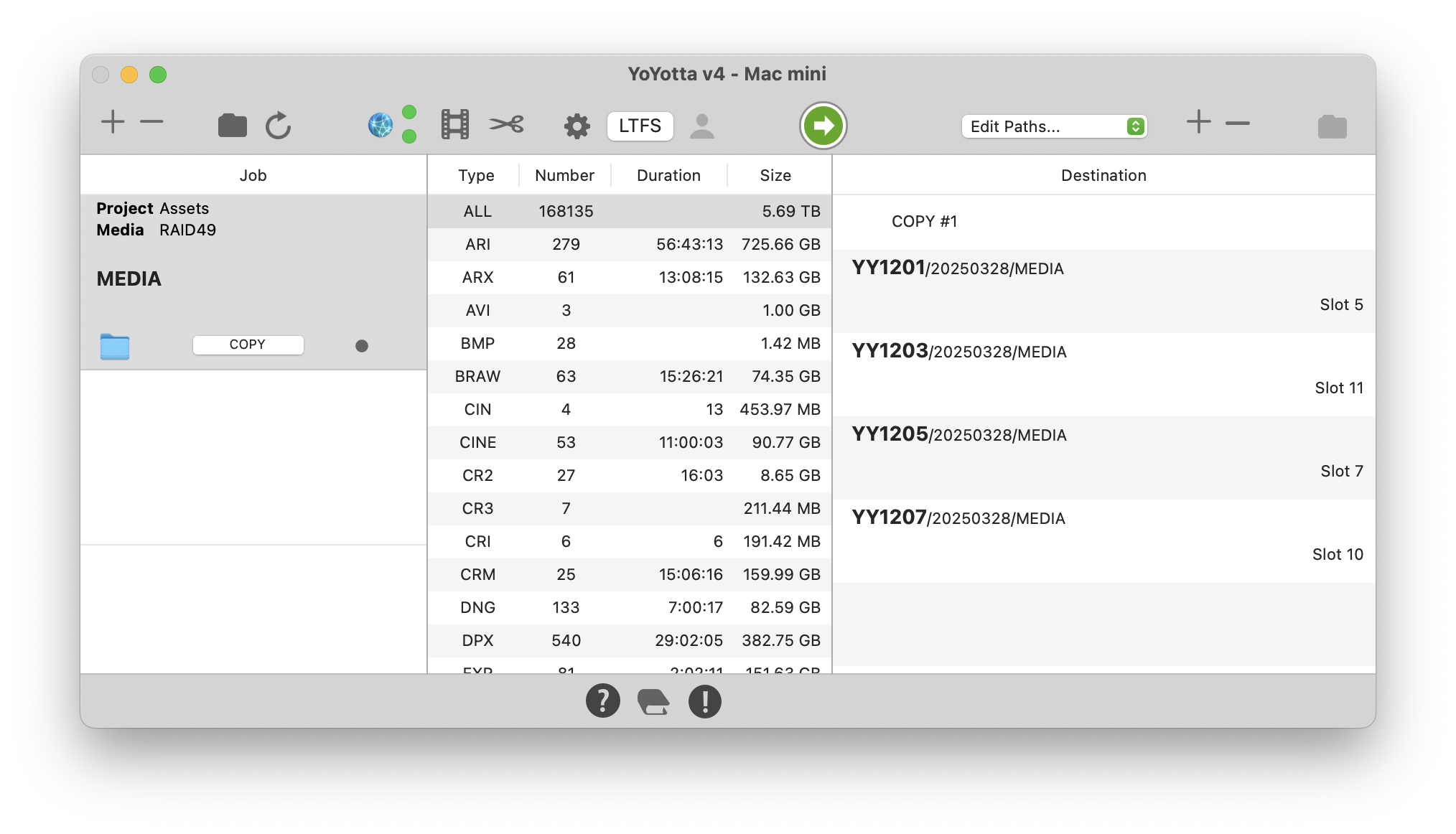 Spanning larger archives across tapes

Tapes will only be used if needed and they will be loaded and formatted automatically (if blank) then mounted. No need to open the LTFS panel.
Always add a few extra tapes to the job, if they are not needed they they won't be formatted or mounted and they can be used for another job.
On completion the database will show which assets are on each tape.
---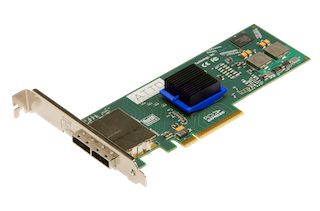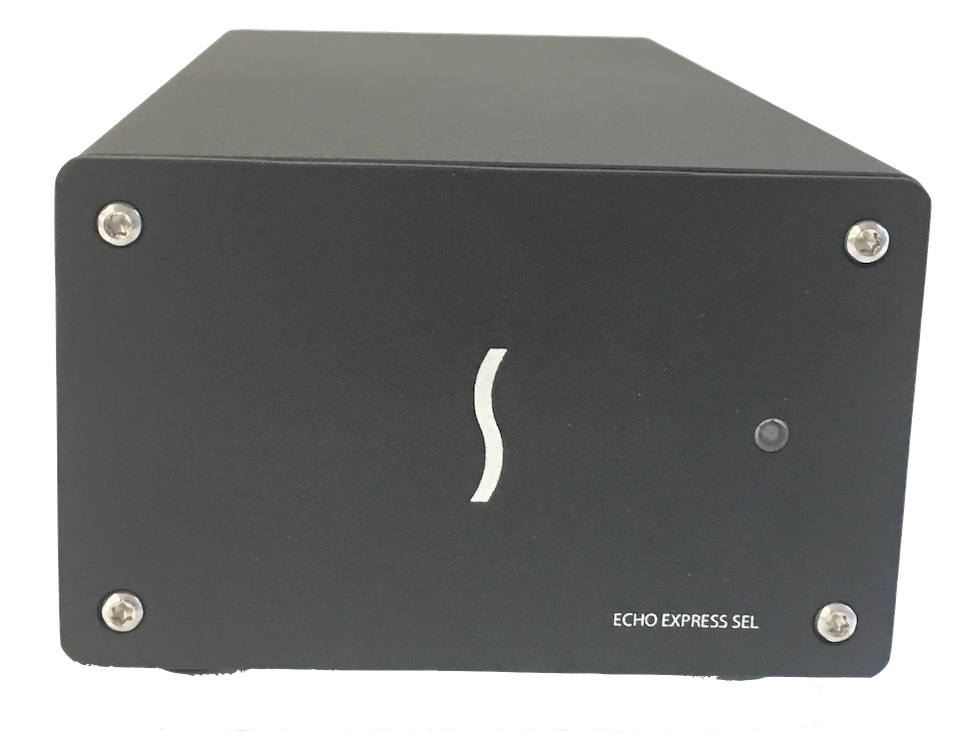 Connecting a library to a Mac
Drives for libraries are available with SAS or Fibre Channel interfaces.
Use SAS libraries, they are cheaper, they use more durable cables, there is no configuration and SAS gives the same performance.
To connect a SAS or FC LTO-9, LTO-8, LTO-7, LTO-6 or LTO-5 drive to the new MacPro use the ATTO ExpressSAS H680, H1280 or H1280GT PCIe cards from ATTO.
H644 and H608 cards can also be used, but ensure they have the correct SAS connectors for your drive.
Each SAS connector can control up to four SAS drives using a SFF8088 to 4x SFF8088 cable.
See this link for more details on the ATTO.
To connect a Thunderbolt Mac to a SAS LTO library use an ATTO H680, H1280 or H1280GT card inside a Thunderbolt PCIe expansion unit, like the Sonnet Echo Express SEL.
The Sonnet Echo Express SEL is a compact Thunderbolt enclosure that holds a PCIe card like the ATTO H680/H1280. A lot of our customers use this to connect to a desktop SAS LTO drive or tape library. Get the Thunderbolt 3 unit as this means that there is plenty of bandwidth for multiple LTO drives and also daisy chaining other Thunderbolt units. The Apple TB3 -> TB2 adaptor allows connection to older Thunderbolt 2 Macs. There are also other units that hold more than one card.
ATTO Thunderlink SH1068, SH2068 TB-SAS, ThunderStream SC3808, SC4808 adaptors, R680 or R644 PCIe RAID SAS cards do not support TLR which is a required protocol. So they are not compatible with LTFS running on any operating system.
Highpoint RocketStor and RocketRAID devices are not compatible with LTFS + LTO drives.
The Highpoint 6328L is a SATA protocol interface. It has Mini-SAS connectors, but does not support SAS protocol. So this does not work with any SAS RAID or tape devices.
The Highpoint 6328 is a SAS protocol interface. But it does not support TLR protocol, so it cannot be used with LTO + LTFS.
It is not possible to set the Oracle SL150 control path to use a FC drive. To use it with macOS, there has to be at least one SAS drive in this library and use this as the control path.
---

mLogic mBridge SAS unit
An alternative is the mBridge from mLogic connects a Thunderbolt Mac to a SAS LTO tape library. It is rack mountable and has a built in power supply. There is also a FC version available.
---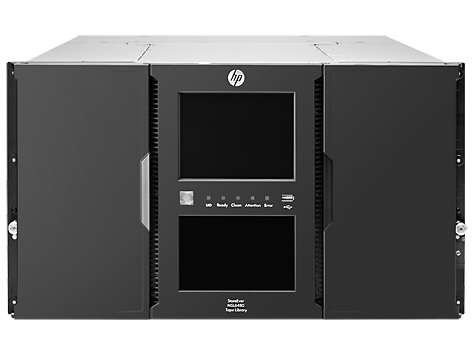 HPE MSL Libraries
YoYotta Automation supports HPE StoreEver 1/8, MSL2024, MSL4048, MSL6480, MSL3040
---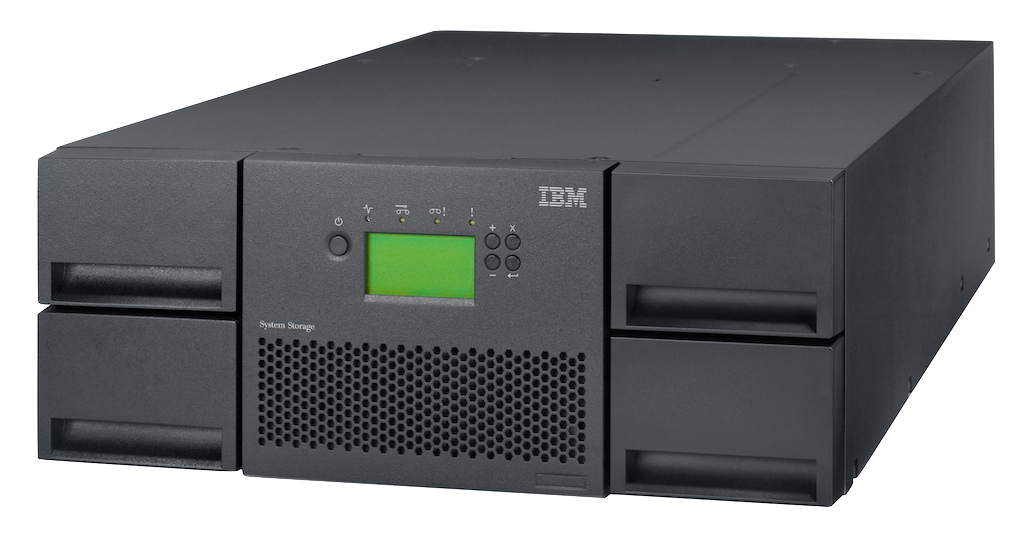 IBM TS Libraries
YoYotta Automation supports IBM TS2900, TS3100, TS3200, TS4300
---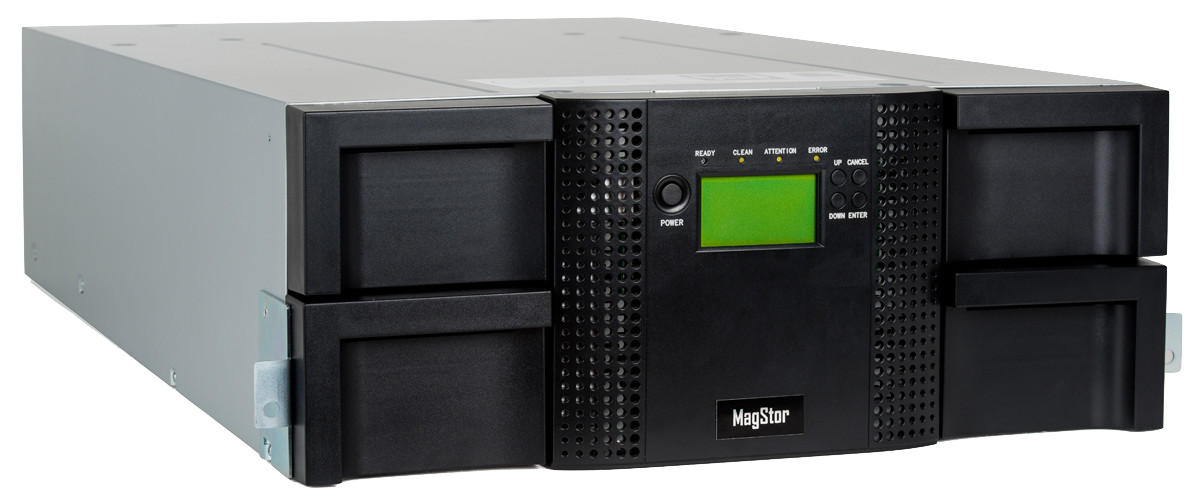 MagStor Libraries
YoYotta Automation supports MagStor M1000, M2000, M3000, 1/8, 2024, 4048, 6480
---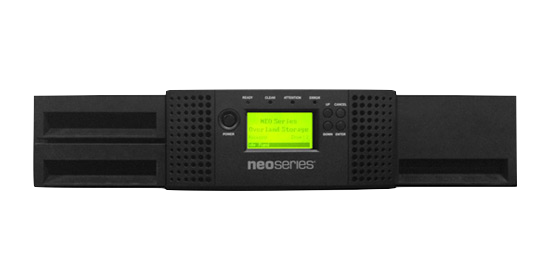 Overland-Tandberg Libraries
YoYotta Automation supports NEO StorageLoader, T24, xl40 and xl80
---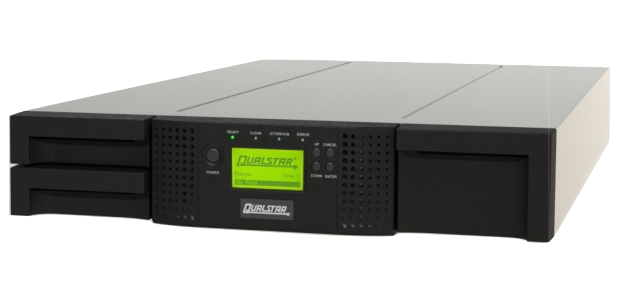 Qualstar Libraries
YoYotta Automation supports Q8, Q24, Q40, Q48 and Q80 tape libraries
---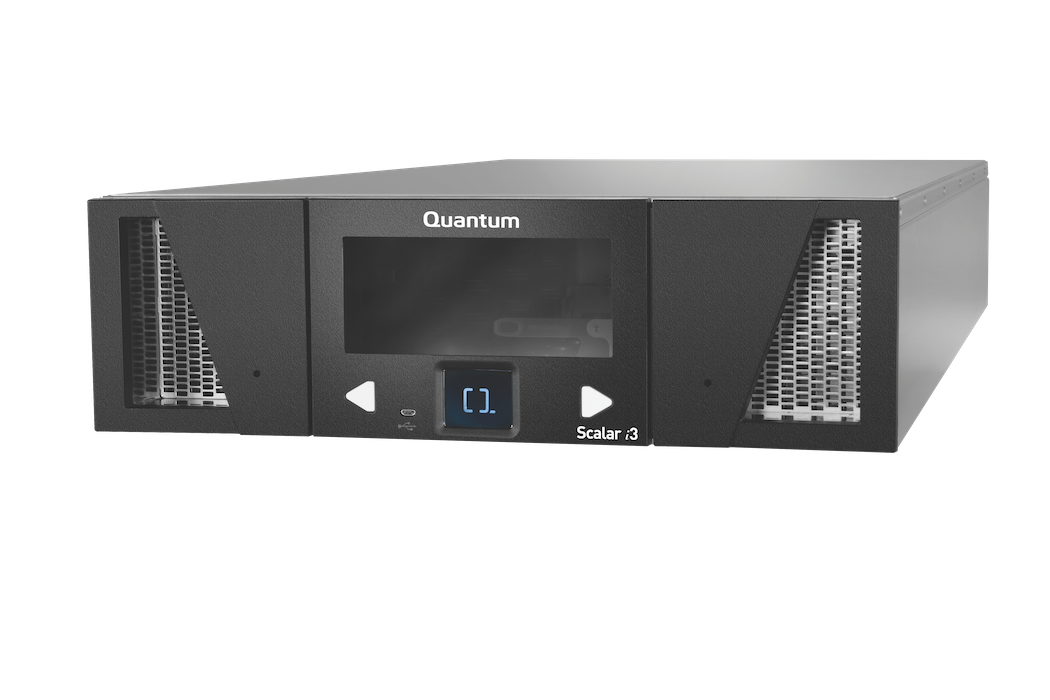 Quantum Libraries
YoYotta Automation supports Quantum i3, i6, SuperLoader 3, i40 and i80
---

Spectra Libraries
YoYotta Automation supports Spectra Stack, T50e and T120