macFUSE
macFUSE 4.4.1 or newer is needed for LTFS and YFS (YoYotta File System)
Previously this framework was called FUSE or OSXFUSE
To check if macFUSE is installed, open Apple System Settings and scroll to the bottom of Settings and click macFUSE
If there is a macFUSE panel click it and check that the installed version is 4.4.1 or newer.
Do not use older versions
If it is an older version click
Update FUSE
If there is no FUSE or macFUSE panel then click here to go to the
macFUSE website
and download the
Stable Release
of macFUSE.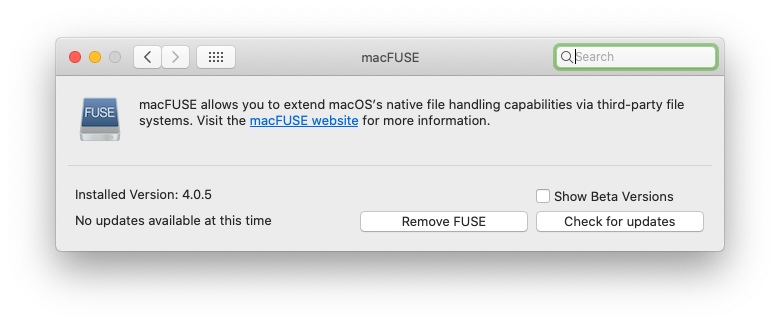 Older macOS versions open System Preferences and click macFUSE

if there is a older FUSE panel click it, then click Update FUSE
There may be a Preference panel error or a spinning update icon. Ignore this, quit and relaunch System Preferences and check that macFUSE is installed correctly.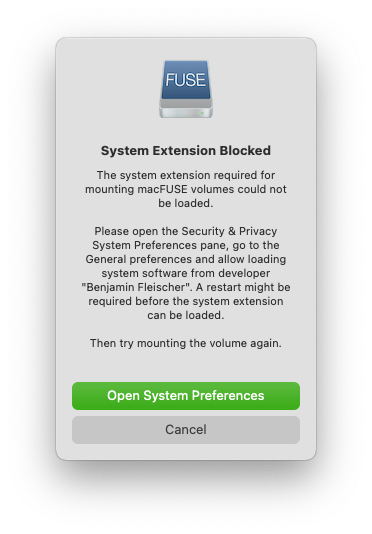 Double click the downloaded macFUSE dmg to open the image.
Then double click the Install macFUSE package.
After installing test macFUSE using the Testing macFUSE instructions below.
During the testing this System Extension Blocked panel should appear.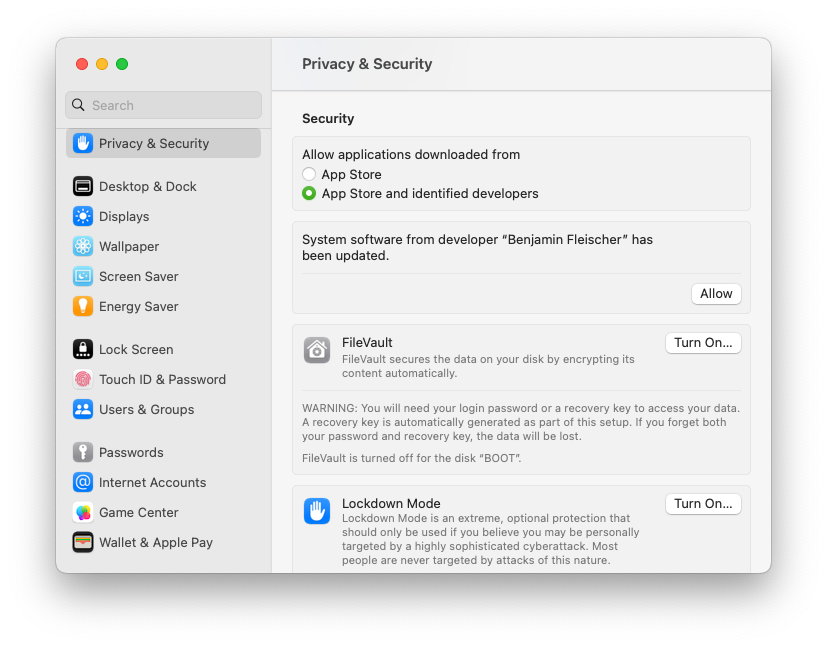 Open System Settings and go to Privacy & Security. There will be a message about System software from "Benjamin Fleischer". Click Allow and then restart the Mac.

You must click the Allow button locally to the Mac, clicking when using remote screen sharing will not work.
Any issues with FUSE try clicking Remove FUSE and then install again.

Note that booting a Mac from an external hard drive will stop macFUSE and other drivers and kexts from installing correctly.

Now test macFUSE again.
---
Testing macFUSE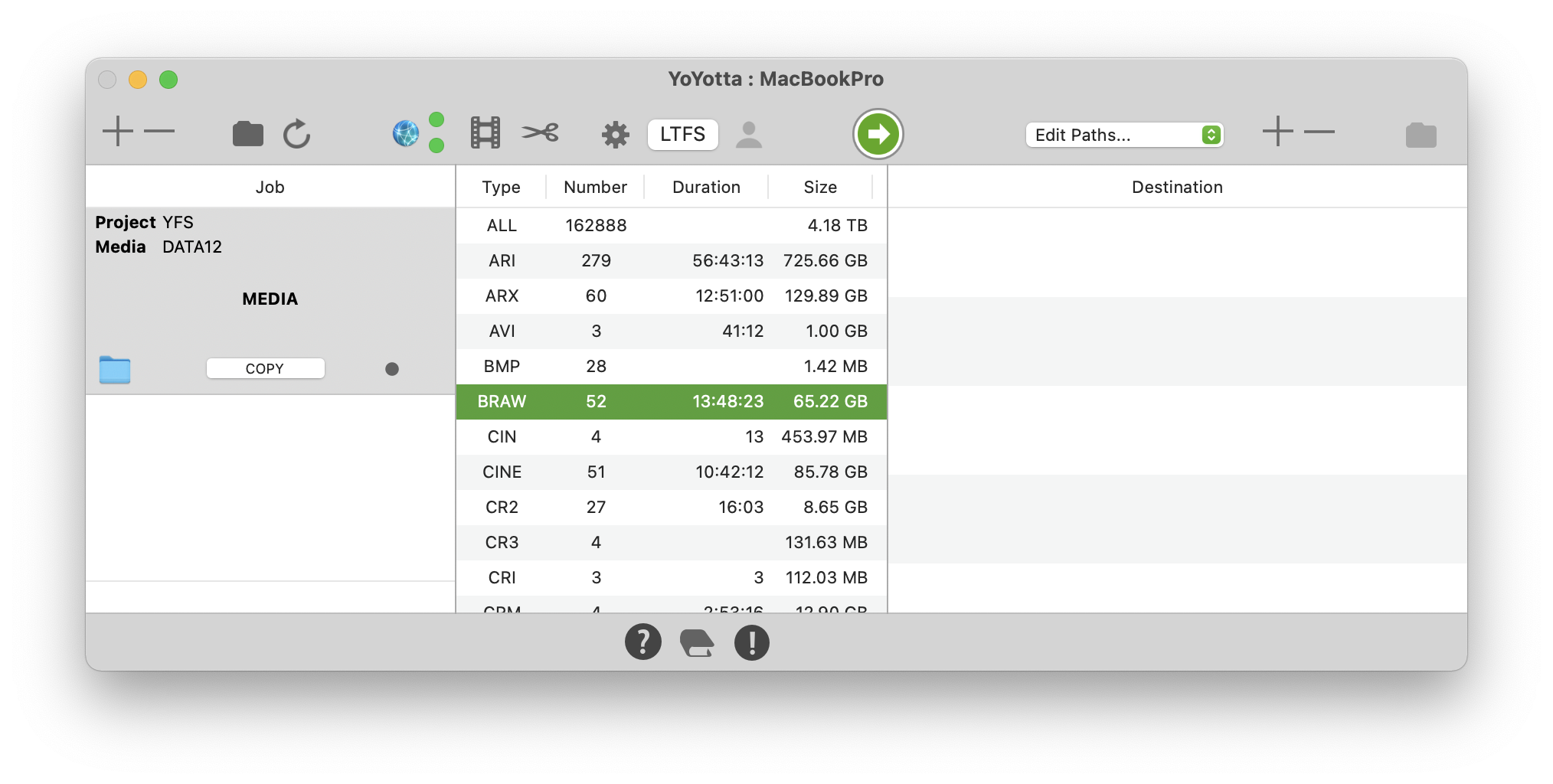 YFS (YoYotta File System)
Drop a folder with some media files into the YoYotta job table. YoYotta will index the folder and show a list of the file types inside the folder. In this example it is easy to see that there are 52 Blackmagic RAW files in the job folder, however they may be buried in subfolders. Select one of the file types in the Type table and press the space key.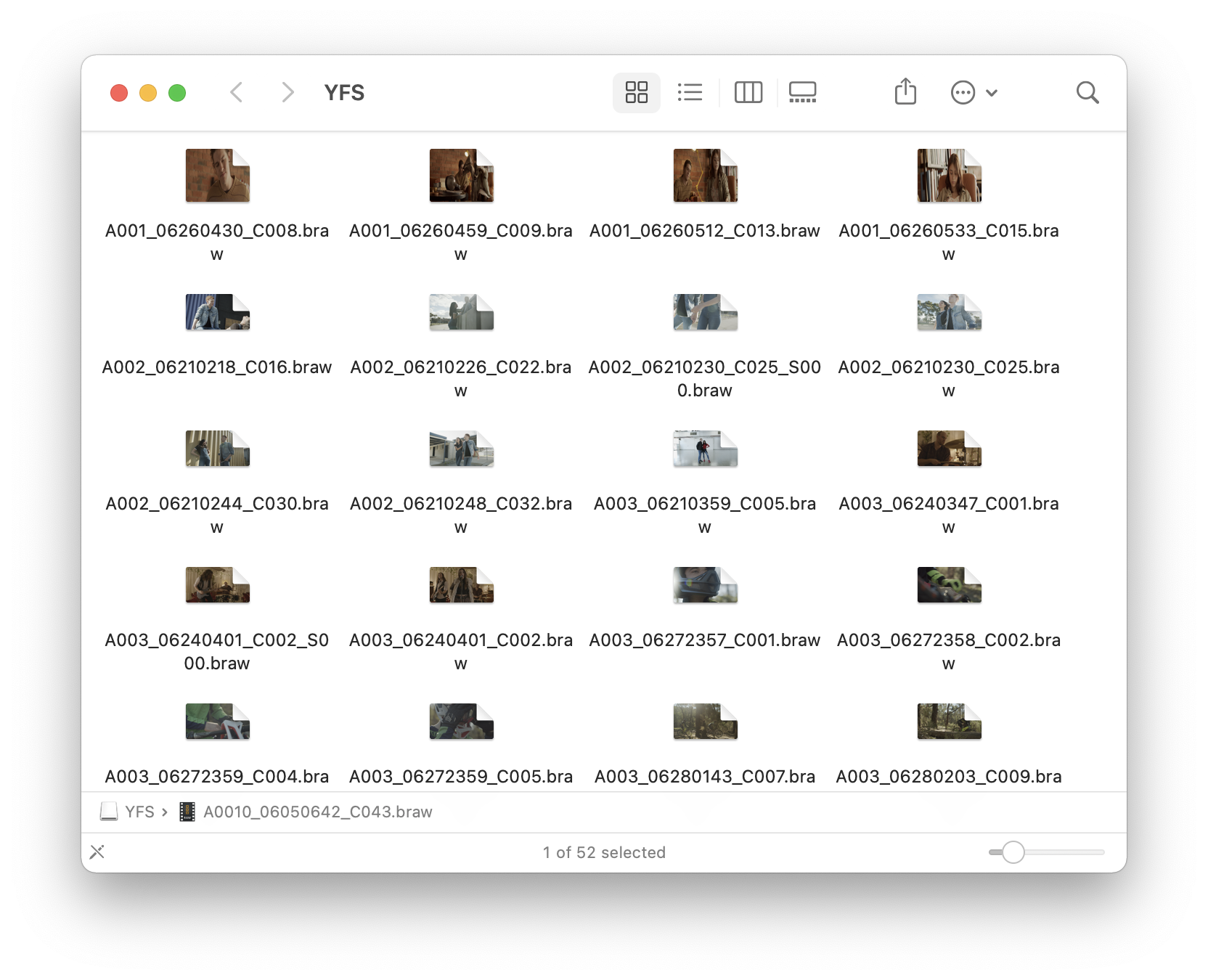 YFS (YoYotta File System)
A Finder window will appear showing all the files with that extension, Here all the BRAW files are shown.

YoYotta has created a virtual file system called YFS.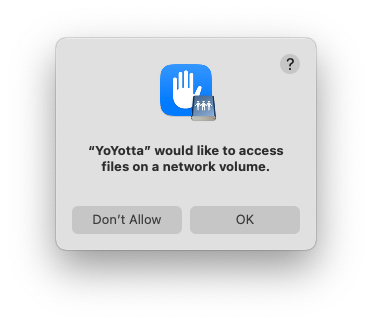 If this popup about network volumes appears click OK.

If nothing happens then press the space key again.
If still nothing happens then macFUSE will need to be re-installed.
To do this open System Settings and click Remove FUSE. Then click Install FUSE and follow the steps above.