Other hardware
Tried and tested hardware to use with YoYotta Software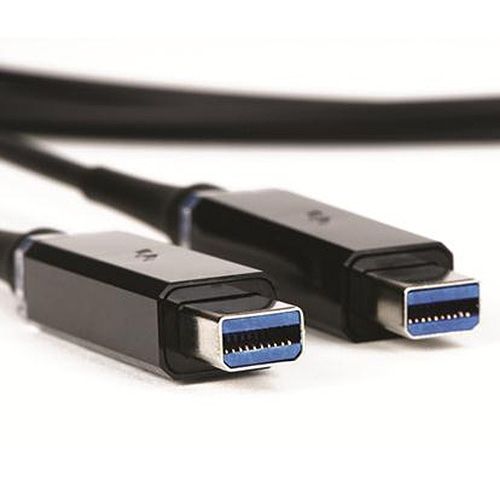 Corning Optical Thunderbolt cables
Regular Thunderbolt cables are available up to 2m long, this is fine for connecting desktop devices. However if you have something like a RAID or an LTO library then you will want to put this in a machine room.
Corning make optical cables which have identical performance with lengths from 5.5m up to 60m. They are very durable and flexible. We use them at trade shows, also at the YoYotta office. This allows us to have an equipment rack with various LTO libraries downstairs, linked to a Mac upstairs without sacrificing any performance.
---
1 Beyond
1 Beyond make a range of LTO enclosures. Their latest unit is the compact ThunderTape 3 that is shown here.
The ThunderTape 3 can have two LTO drives, plus a RAID. It has a Thunderbolt3 or Thunderbolt2 interface, so easier to connect to your Mac. Together with YoYottaID LTFS you can make two or more copies in parallel.
Click to find out more about 1 Beyond LTO hardware
---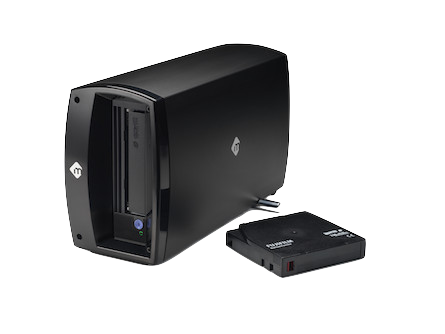 mLogic mTape
The mLogic mTape has an IBM LTO drive and a Thunderbolt 2 interface with 12V power.
Just connect it to your Mac using Thunderbolt, run YoYottaID LTFS and get archiving.
A lot of our customers use a second LTO drive to make two LTFS copies in parallel. mTape Thunderbolt has a SAS output suitable for a matching mTape SAS drive. Just remember to use a short SAS cable to connect the two.
---
LaCie Rugged
LaCie lent us some drives for NAB 2014 so it was a good chance to test them out on our busy demo systems.
The Rugged drive has both USB3 and Thunderbolt connections and we borrowed the 256 GB SSD version. With real world files the performance we saw was 250MB/s write and 370MB/s read. For these single drive units we would recommend the extra capacity of the hard disk versions which are available up to 2 TB rather than the smaller SSD.
---
LaCie 5big
This was the 20TB Thunderbolt 1 model so there was no shortage of storage. With dual thunderbolt ports we were able to connect up the Mac mini and then daisy chain onto a LTO SAS interface. Speed tests with real files showed 400MB/s read and write. LaCie have just announced a Thunderbolt 2 version with the latest 6TB drives giving 30TB capacity.
---
Sonnet
A lot of our customers use the Sonnet Echo Express, there is the Echo Express SE II, shown here, which holds two PCIe cards and connects via Thunderbolt 2. You could have a 10Ge card and an Atto SAS card in a chassis and quickly move it from an iMac and connect it to a MacBook Pro without rebooting. There is also the Echo Express III-R which has room for three PCIe cards and two LTO drives together with Thunderbolt 2 connectivity.