Which Mac ?
Find the best Mac for your workflow
Apple Silicon
MacBook Air, MacBook Pro, iMac and Mac mini
YoYotta runs well on Apple Silicon Macs or Intel Macs.
Any Mac running Big Sur, Monterey or Ventura will need software drivers for SAS and FibreChannel interface cards and Thunderbolt LTO drives.
Thunderbolt units have a SAS LTO drive inside, so they will need a SAS driver.
Some SAS interfaces might not have Apple Silicon drivers. So you will need to check with the manufacturer and also test all your other hardware with an Apple Silicon Mac to ensure that it all works fine.
TAR restore is only supported on Intel Macs. No support on Apple Silicon Macs.

Remember these are intended as entry level Macs, they have great performance, but there are some limitations.
Internally there are two 40Gb Thunderbolt buses just like the 2018 Intel Mac mini, so the same total bandwidth, but externally just two ports.
So you will probably need a Thunderbolt 4 hub to connect more Thunderbolt devices. We use the Anker PowerExpand 5-in-1 Thunderbolt 4 Mini Dock. There are also the OWC Thunderbolt Hub and the Caldigit Element Hub, we have not tested either of these.
Each of these hubs converts one TB port into three.

Apple Silicon Macs with 16GB RAM are fine for YoYotta, however you may want to open Activity Monitor on your current Mac to see how much memory your other apps are using. The Mac Studio can be configured with up to 128GB and Mac Book Pro up to 64GB RAM.
The Apple Silicon Mac mini can be configured with 10Gb Ethernet, this is recommended for fast connectivity to NAS devices.

We have tested YoYotta running on an 8GB Apple Silicon Mac mini together with an LTO library and four LTO drives. Archiving and restoring all worked at full speed. Plus it runs cool using a fraction of the power of the older Intel Macs. The 2018 Intel Mac mini ran hot, so this is a great improvement for an archive Mac that is always running.
Only one extra monitor can be connected via USB-C or TB3 in addition to the iMac or MacBook screen or Mac mini HDMI port, probably not an issue.
For comparison the 2018 Intel Mac mini has the option of more RAM, it also has the convenience of four Thunderbolt ports (but still the same two busses internally). But it runs hot and is slower.

Mac Studio
Lots of connectivity and power, get the entry level MAX model as the performance of the ULTRA isn't needed. Best to use this Mac with your creative apps, rather than as an archiving machine!

In summary get the Apple Silicon Mac mini with 16GB RAM, 512GB SSD and 10Gb Ethernet. With the limitations noted above the Mac mini is a great step forward from the 2018 Mac Mini.

---
Intel Mac mini
2018 Model
The 2018 Mac mini is a great offload and archive station for YoYotta software. USB3 and Thunderbolt card readers are available for ALEXA, RED and Sony media and the Mac mini has four Thunderbolt 3 ports plus two USB3 ports.
All three models work well with YoYotta software. Get 16GB RAM and 256GB or 512GB SSD. The larger SSD allows for use as a scratch volume.
For YoYotta and YoYotta LTFS we suggest the i7 or i5 model and for YoYotta Automation the i7 model.
With large projects, then the faster i7 makes sense. Also if running lots of other apps 32GB RAM.

Connect a Sonnet Thunderbolt chassis with an ATTO SAS or FC card and you can then archive to dual LTO tape drives using YoYotta LTFS or use YoYotta Automation to control an LTO Tape Library with up to four drives. With the Apple adaptor you can also connect Thunderbolt 1 and 2 devices.
Don't forget the optional 10Gb Ethernet port if using a NAS or network with 10Gb connections.

2014 Model
The entry level 1.4GHz model is underpowered with just 4GB RAM, so do not use that model!
The mid range 2.6GHz i5 with 16GB RAM will control an LTO-5 or LTO-6 drive with YoYotta LTFS.
Upgrade to the 3.0GHz i7 with 16GB RAM if you want to use LTO-9, LTO-8 or LTO-7 or multiple LTO drives or YoYotta Automation with an LTO library.
Get SSD storage (Whilst 256GB is fine, 512GB allows room for a scratch volume) instead of a Hard drive or Fusion drive as this will speed up the computer. The Fusion drive isn't recommended, as we don't encourage you to store any media files on the internal drive.

Connect a display or remotely share screens from your laptop. Another way is to plug the HDMI output into a spare port on your HD monitor. Use the Mini standalone or with a PCIe chassis from Sonnet or a 1 Beyond unit.
Mac mini's have Intel integrated GPUs so with YoYotta Transcode you may have to switch to CPU decode for certain codecs.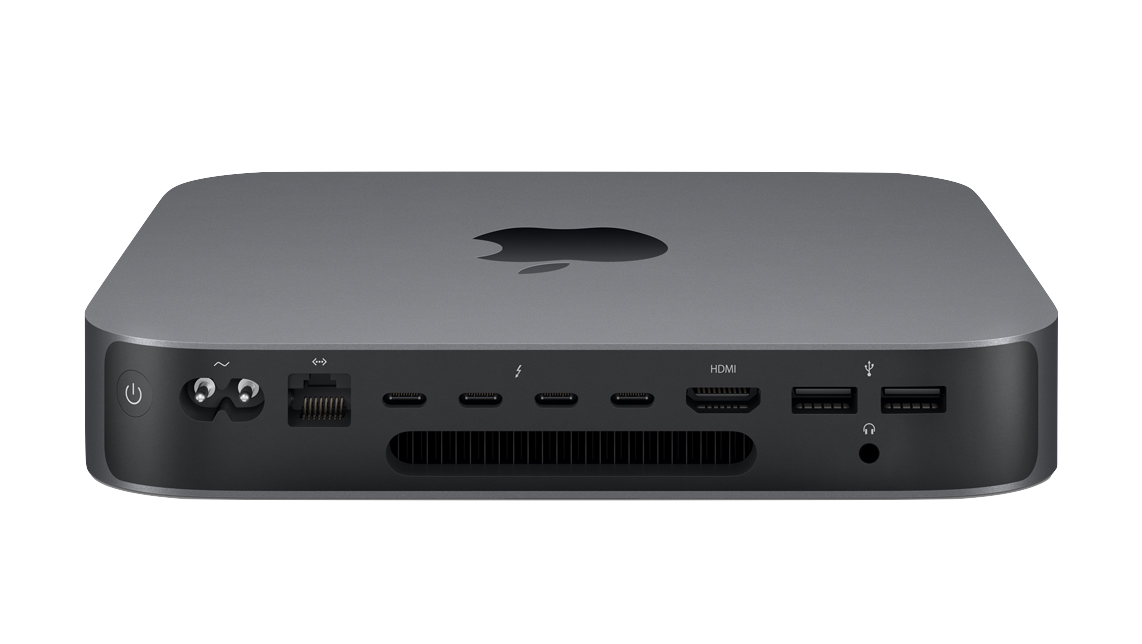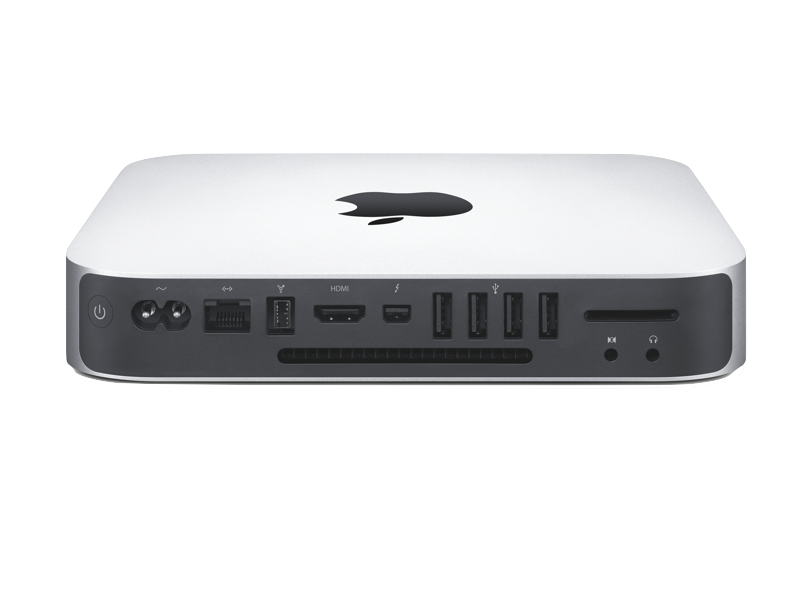 ---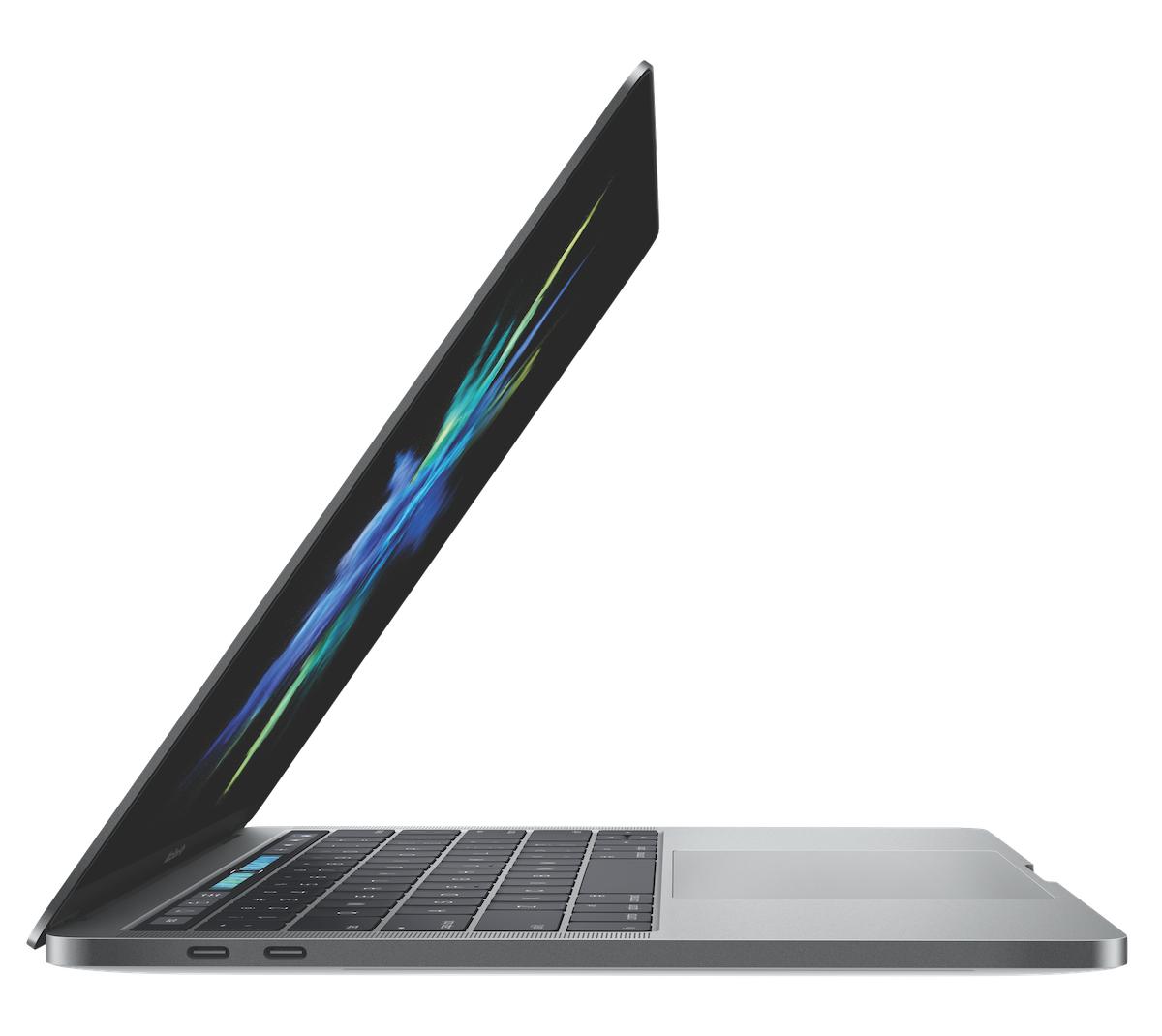 Intel MacBook Pro
The 15" MacBook Pro's have four USB-C ports which can be used for USB3, USB2, Thunderbolt 1, 2 and 3. Cables are available for all USB drives and a TB3 to TB2 adaptor allows the connection of Thunderbolt2 devices. Get a minimum of the i7 processor and 16GB RAM. If indexing sources volumes with many millions of files then get the 32GB RAM option. The internal SSD is very fast.
The ability to plug any cable including power to either side is very useful.

The earlier Retina MBP with i7 processor and AMD GPU is also good for use with YoYotta. There is a fast GPU, dual USB3 ports and dual Thunderbolt2 ports. So again you can easily connect USB3 card readers and via Thunderbolt one or two LTO drives.
---
Intel iMac
The 27" Retina 5K iMac and the iMac Pro both have four USB3 ports and dual Thunderbolt3 and a decent GPU (get the faster i7 processor as it is not a lot more). Configure with a minimum of 16GB RAM. Use the iMac for everything, offloading, importing and archiving with YoYotta, offline preparation using YoYotta Transcode and pre-conforming using YoYotta Conform.
The best 21.5" iMac is the Retina 4K which has the option of an i7 processor. The mid range quad core i5 3.0GHz processor would be OK, however avoid the entry level non-retina 2.3GHz CPU.
We recommend an SSD Mac for overall performance, not too large as this will be expensive and you don't want to keep any content on the internal drive. So don't get a hard drive or a Fusion drive.

---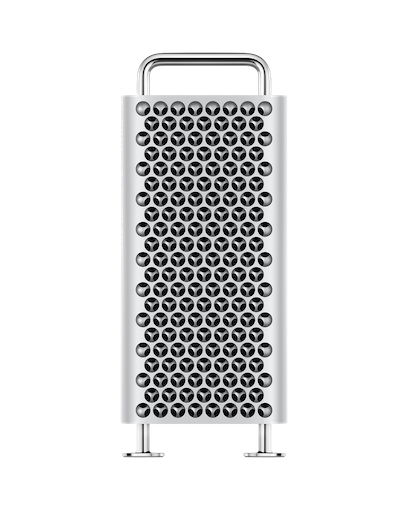 Intel MacPro
For YoYotta workflow then as mentioned above the 2018 i7 Mac mini or 2020 M1 Mac mini are great. However if you want to run transcoding or use other graphics apps then a better GPU might be needed.
The 2019 MacPro has thunderbolt ports and internal PCIe slots. Connect LTO drives using an ATTO SAS card in one of the slots or in an external Thunderbolt chassis. We would suggest the 12 or 16 core model with 32GB RAM and 256GB SSD along with the AMD Radeon Pro W5700X.
Avoid the 8 core CPU and the AMD Radeon Pro 580X.

The 2013 Mac Pro also has plenty of ports and can be used with an external Thunderbolt chassis, however the recent Mac mini will give much better performance for workflow tasks.

The 2010 MacPro will run macOS 10.13, but the lack of ports is a limitation.
The CPU speed will limit LTFS transfer speeds and if working with multiple drives then the limited bus performance will slow down job speed.
Years ago I used to carry them around Soho in London and they weren't the lightest of machines, so even with a Thunderbolt chassis the 2018 or 2020 Mac mini is far more portable and will give much better performance for workflow tasks.
---
eGPU
YoYotta Transcode uses a single system GPU, so adding an eGPU doesn't change much. eGPU units only work with Thunderbolt3 Macs which are already powerful. M1 Macs don't support eGPU. The system GPU in most Macs has plenty of power for resizing and LUT processing used by the Transcode option. The thing that speeds up transcoding is the processor, this is because decoding some codecs and encoding all codecs is a CPU task. This means that the CPU is often the bottleneck. So rather than getting an eGPU, instead get the best processor option for your Mac.