Purchase YoYotta Software
Contact support@yoyotta.com, let us know your billing address and what options you need and we will send you a credit card payment link.
Add up to eight YoYotta LTO drive options to supports archiving to LTO tapes in LTO-9, LTO-8, LTO-7, LTO-6 or LTO-5 drives from all manufacturers.
The YoYotta Library option supports archiving to LTO tapes using any LTO Library with max 160 slots and eight drives.
YoYotta requires an Apple Mac running macOS Ventura, Monterey, Big Sur, Catalina 10.15

v4 subscription pricing

Purchase licenses in GBP £, USD $ or EUR € with an Amex, MasterCard or Visa card
All UK customers 20% VAT will be added. EU customers please supply your VAT number, otherwise local VAT will be added.
Download YoYotta and create an account
YoYotta runs well on Apple Silicon Macs or Intel Macs.
Any Mac running Big Sur, Monterey or Ventura will need new software drivers for SAS and FibreChannel interface cards and Thunderbolt LTO drives.
Thunderbolt units have a SAS LTO drive inside, so they will need a SAS driver.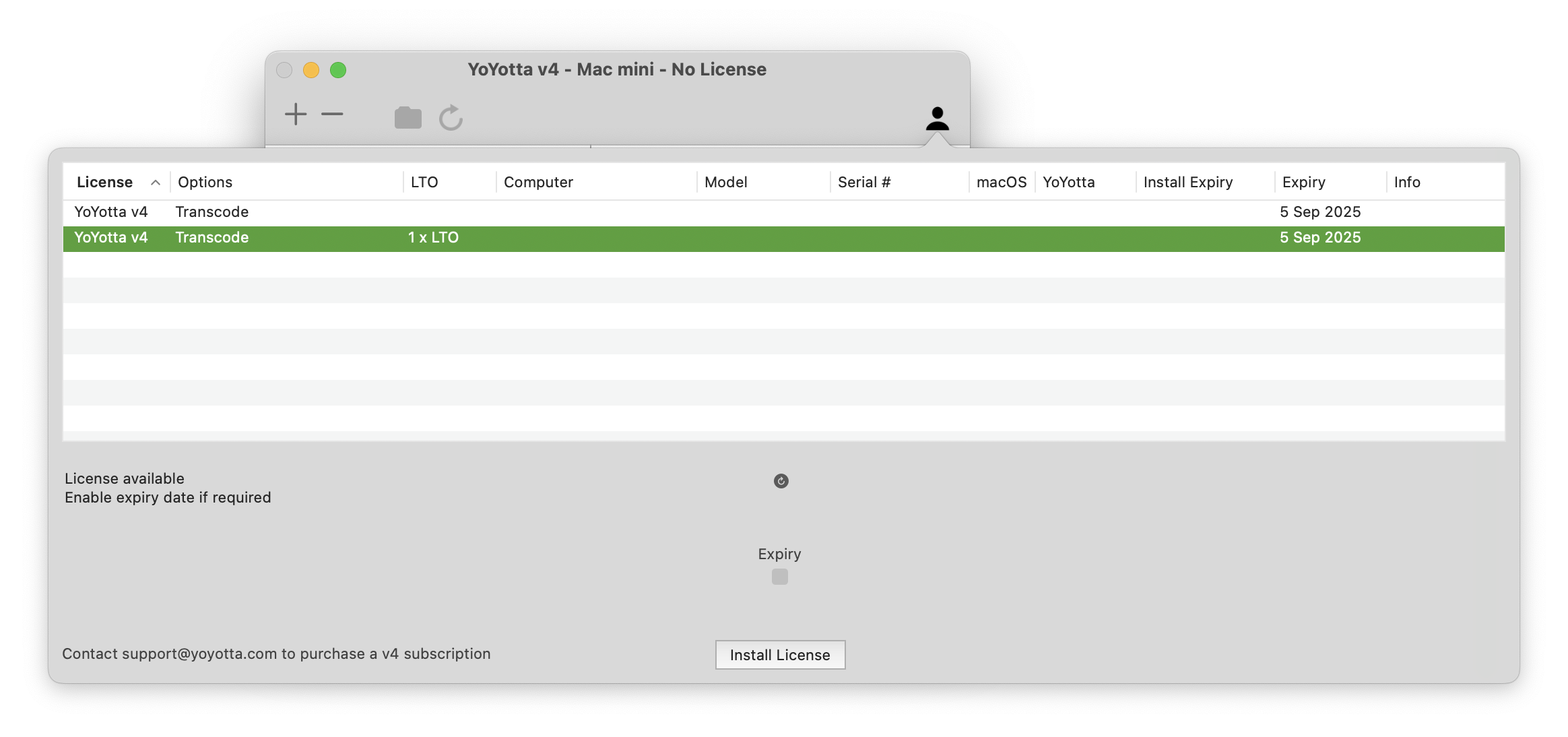 Install license
When the payment has been processed we will email you.
Select the license and click Install License.
---
YoYotta installed
The main window will get wider showing more buttons. The license is now installed and can used on this computer whilst online or offline.
There is an Uninstall License button, after clicking the license will be available to install on another computer.

v4 licenses expire when the subscription ends, however the license can be installed with a shorter expiration date. For example you may want to install the license on a client's or freelancer's laptop for 2 weeks.
---
Expiring license
In the calendar select an expiration date for the license. Then click Install License
---
Expiring license installed
The license expiry date is shown in the table, after this date the license will be available to install on another computer. This is useful if a production needs a license for a few weeks, after that time you don't need to have access to the computer to uninstall the license. If the license is still needed you could screen share to the Mac, log in and install it again.
Quick Start
---
© 2023 YoYotta Back to Top