Take a look at YoYotta software
Workflow for production and post. Fast archive and verification of camera cards and drives, create comprehensive media reports.
Try out YoYotta today
Quick Start

---
Easy Offload
Add Source folders or drives
Add Destinations
Start Job
It's even quicker next time you use that media as YoYotta remembers the destination setup.
Quick Start

---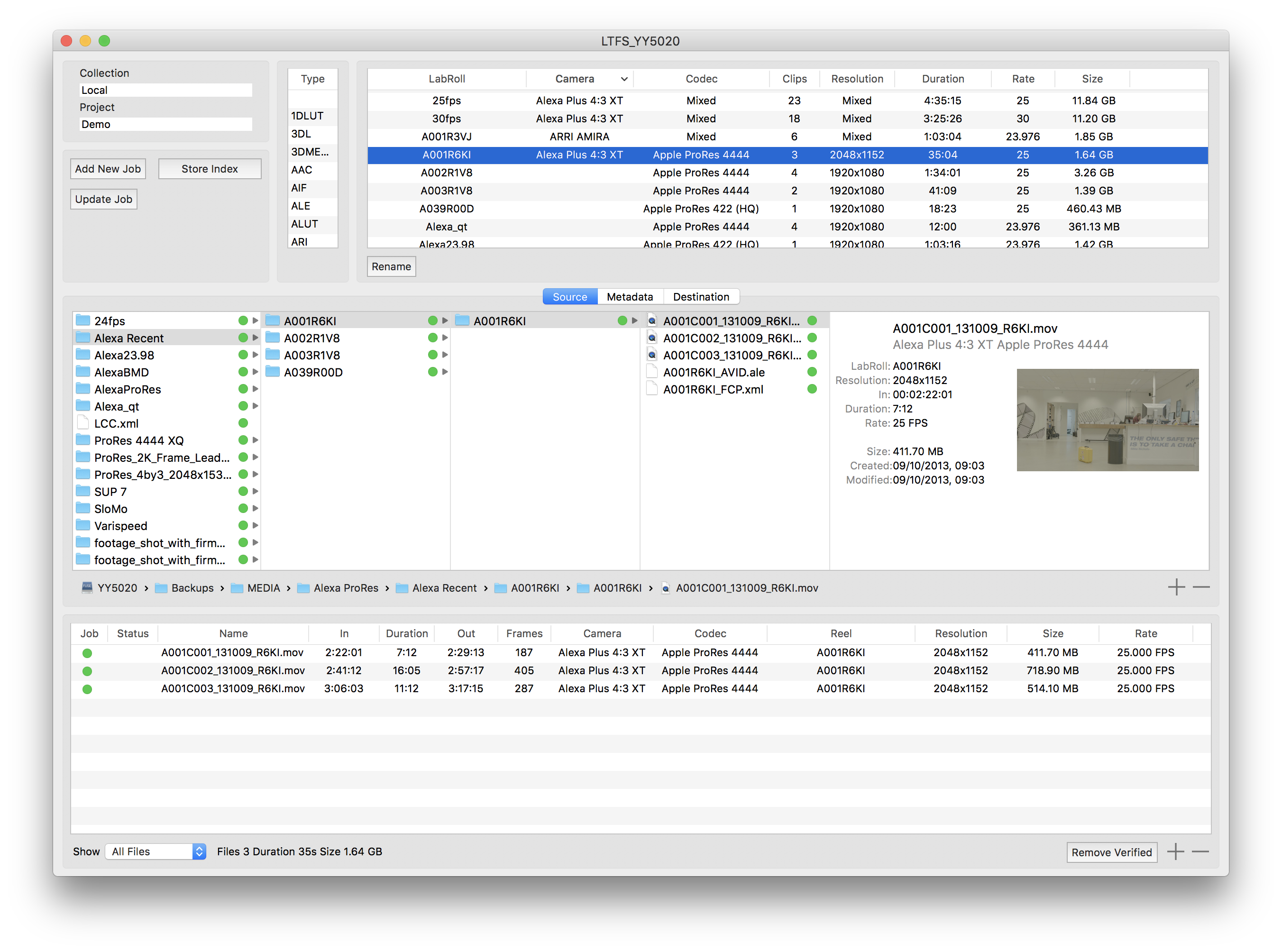 Source Browser
The Source Browser is a great way to look at camera card and drive contents.
Use YoYotta to catalog your drives, volumes. Adding one or more LTO drive options enable indexing of LTFS tapes.
Learn about indexing media
---
Search for Assets using the Project Browser
YoYotta stores full media metadata including codec, resolution, duration. It's quick to locate media and you can see where it's stored. Open a virtual folder showing all the media from your search in one place. Make PDF reports from searches, handy to give the producer a list of shoot durations for each media type.
---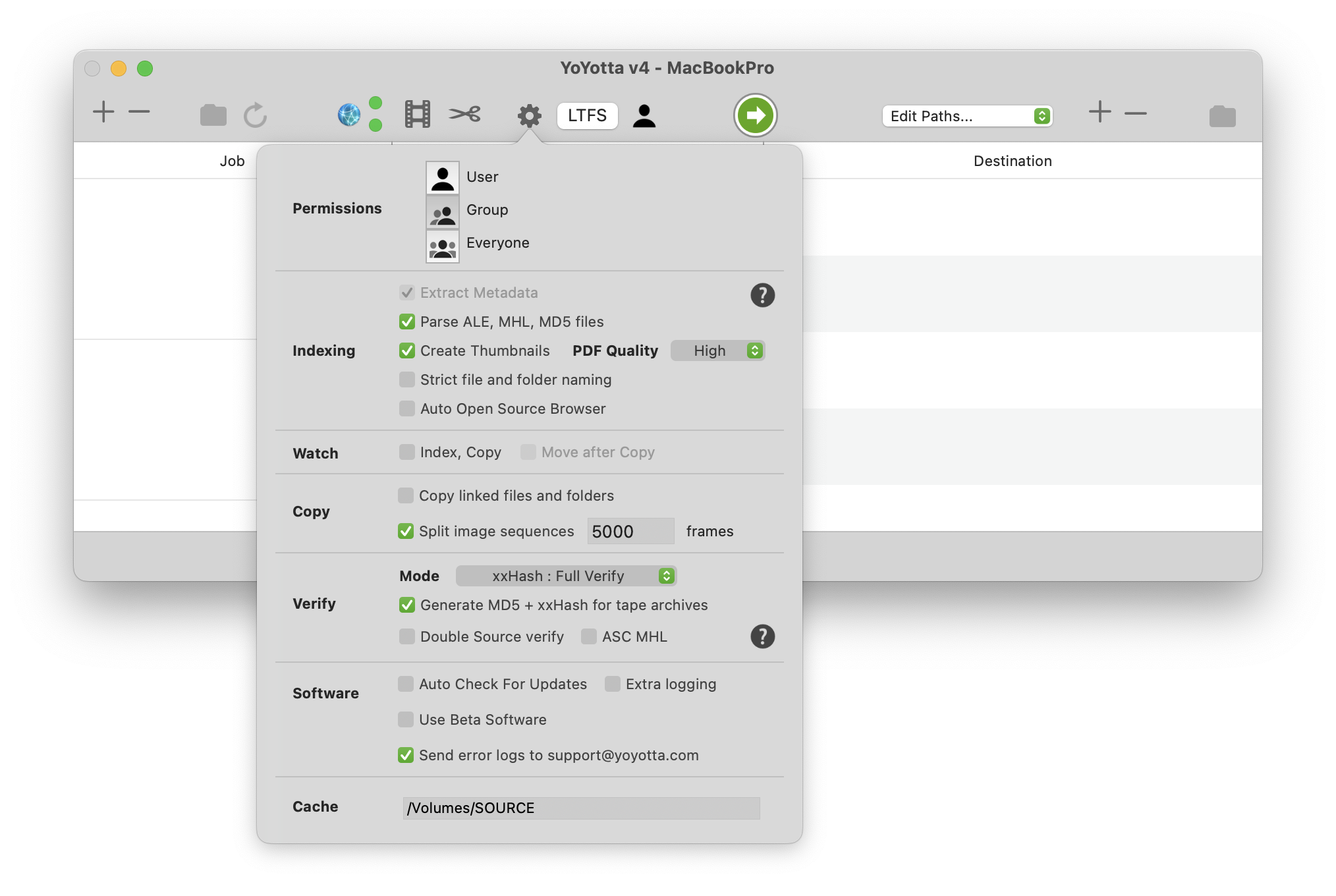 Simple Media Management
YoYotta's software runs on Apple Mac hardware. On a production use a Mac mini or Retina MacBook Pro. Use an Mac mini, iMac or MacPro in a cutting room or post house. Connect using USB-3 and Thunderbolt 3 to Media Readers and Thunderbolt to RAID storage. Receive email alerts, create PDF Reports, ensure file permissions are set correctly.
---
Fast and Secure
As soon as camera cards or drives are connected they will appear on the left in the Media table. Source drives are mounted read-only preventing accidental erasure. YoYotta calculates both MD5 and xxHash checksums whilst copying and then verifies the copy using the checksum without any slowdown. See how long the job will take. When completed the green ticks show that all is correct and a PDF report will keep an audit of the files copied.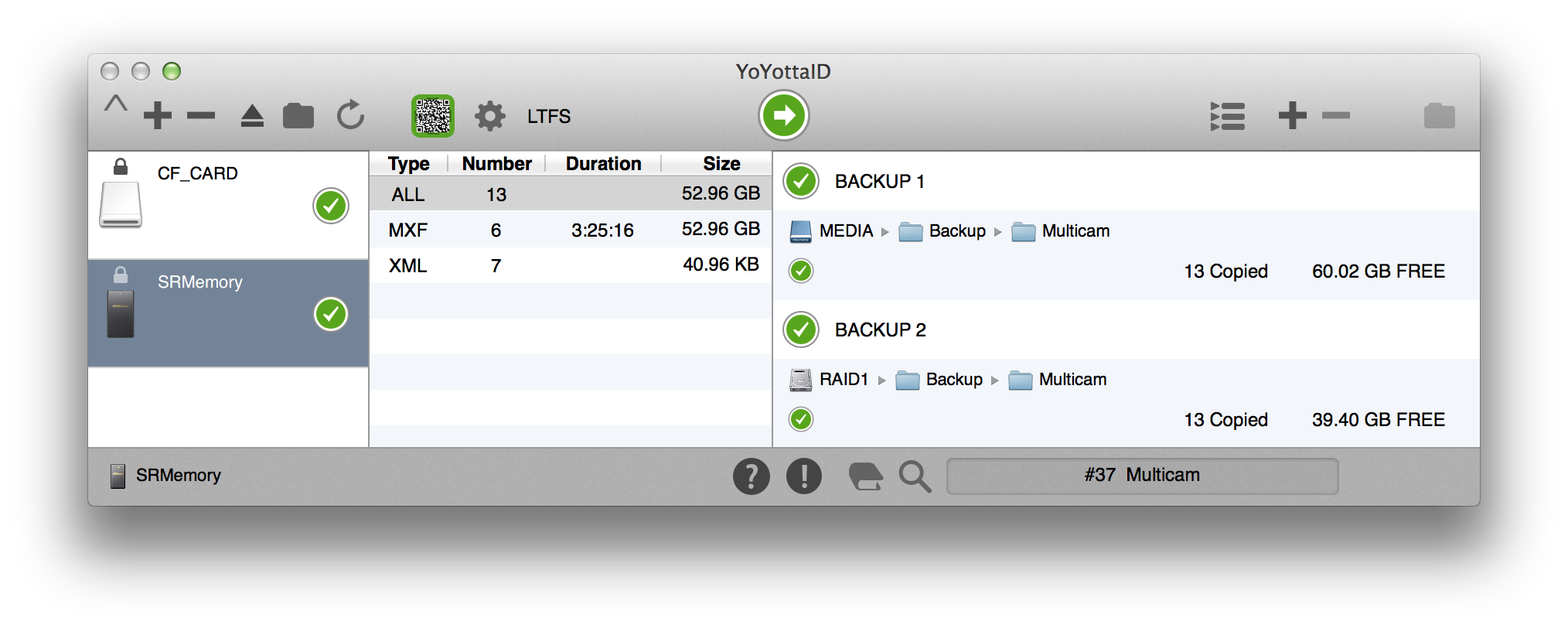 ---

Multiple Media and Offloads
Cards can be copied to multiple destinations simultaneously. Copy multiple cards at once, or add them to a card for sequential copies. Limited only by the speed of connected storage. Stop an import and pickup later. Span large jobs across multiple volumes, disks and tapes.
---
Unlimited job size
Start a large job that won't fit on a single volume. YoYotta will intelligently fill each volume without splitting shots. Keep adding volumes until the job is complete. The reports and the database will keep track of where the shots are archived.
YoYotta will span the job across multiple tapes.
The YoYotta Library option makes it even easier by using an LTO Tape Library to archive material without needing to manually swap tapes.
Learn about Spanning

---

Independent Verify
Each job destination is independently verified. This reduces the verify time.
Media cards can be ejected and removed as soon as verifying starts.
---
Organise your Media
YoYotta can make consistent folders based on Project, Day, Date, Camera, Media, Resolution. Create presets for specific projects or customers.
---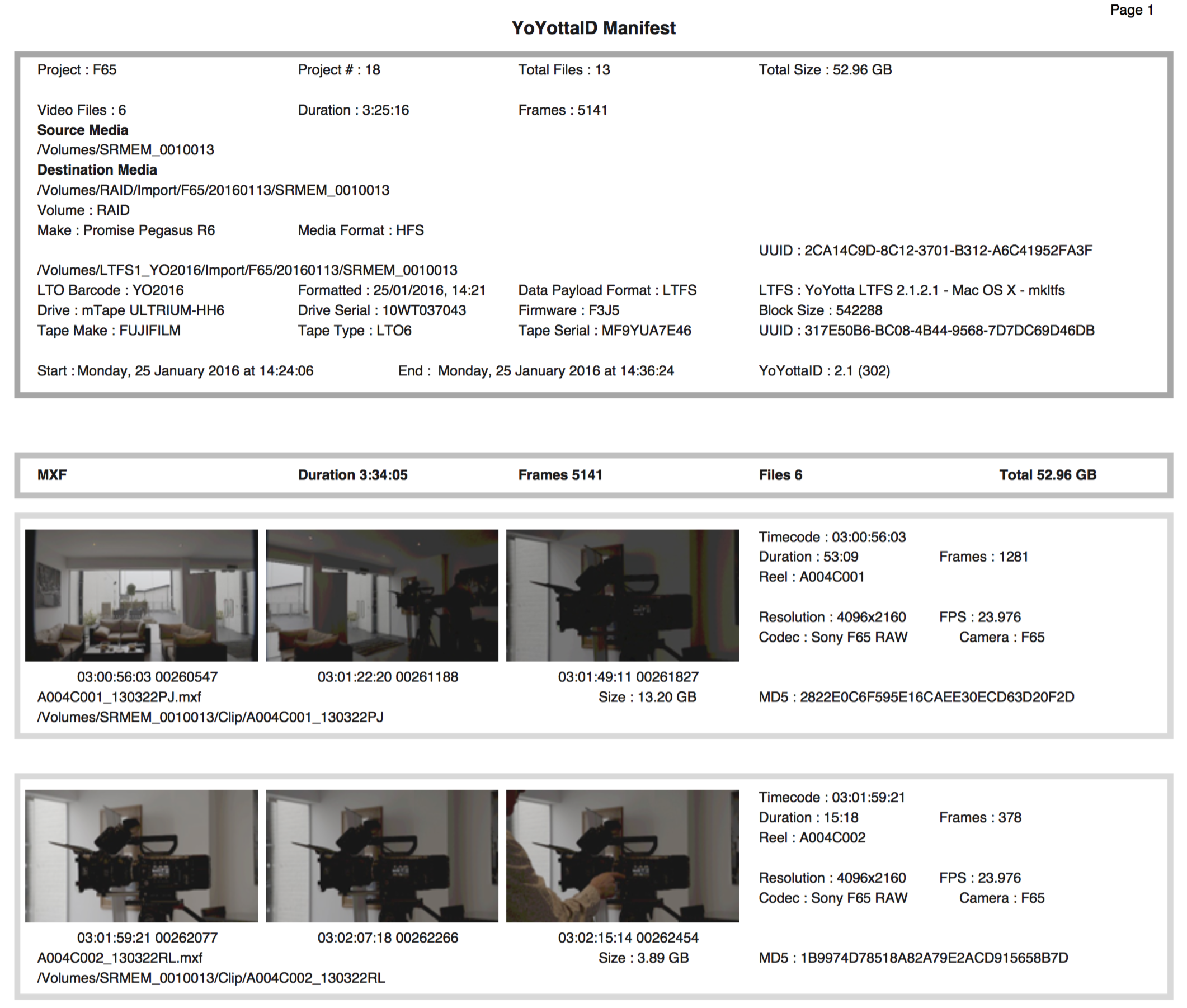 Reporting
YoYotta creates a PDF report and this can be automatically emailed to all team members without needing to setup any email software. The report contains the media checksums for future reference along with media codec, duration and resolution. This metadata is also in the database and stored as extended attributes in the file directory.
---
Selective Import using Source Browser
The client brings their slow USB drive into your Post House. You need all the DPX and ARRIRAW files in your grading suite right now. The trouble is the files are all over the drive and there are loads of other file types that you don't need.
When you connect a drive open the YoYotta Source Browser. Turn off all files and select the required file types turn them on, update the job and YoYotta will quickly transfer just those. You won't miss a folder hidden away on the drive. These files won't just be dumped into one folder, the original folder structure will be preserved on the destination.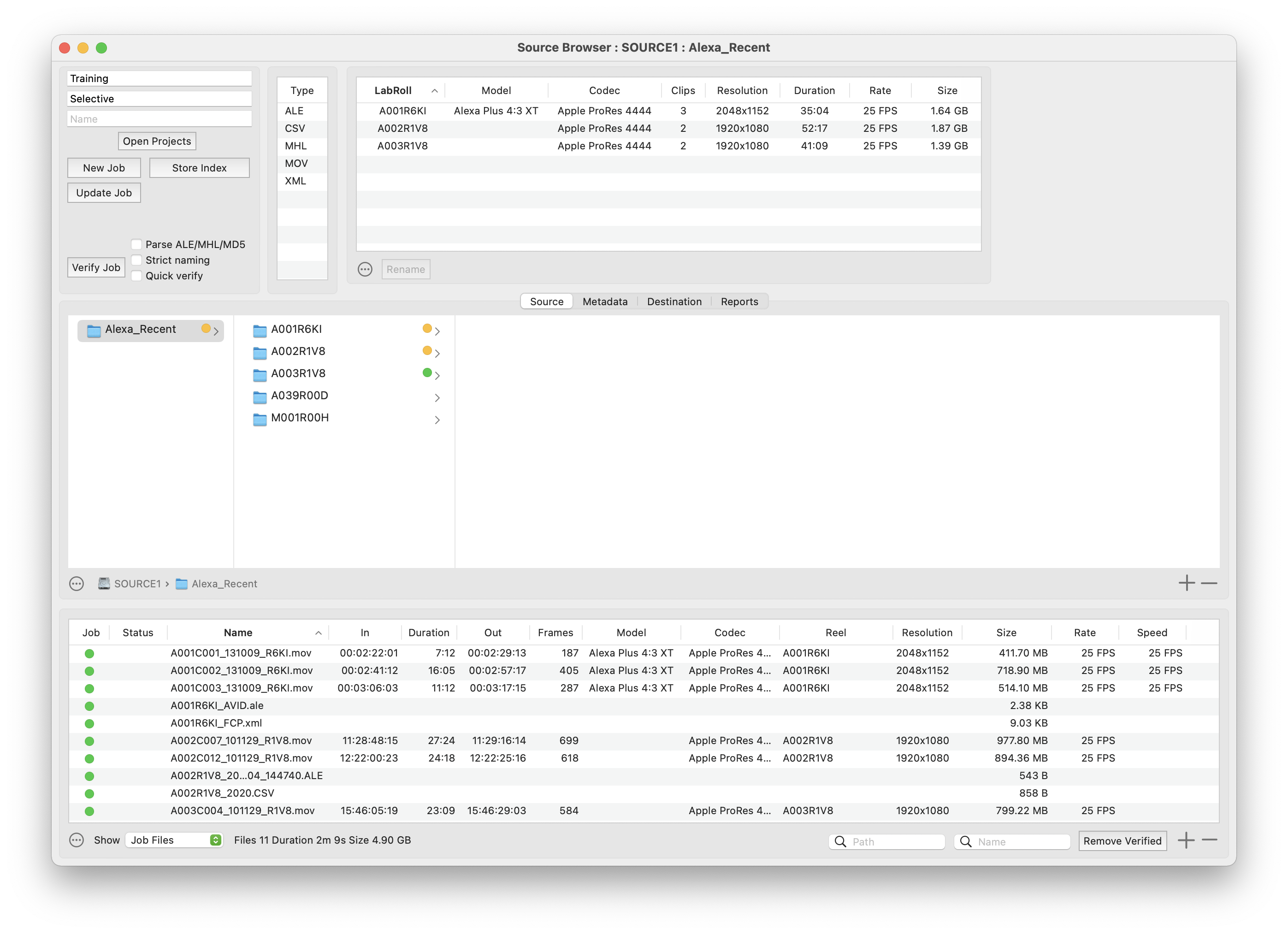 ---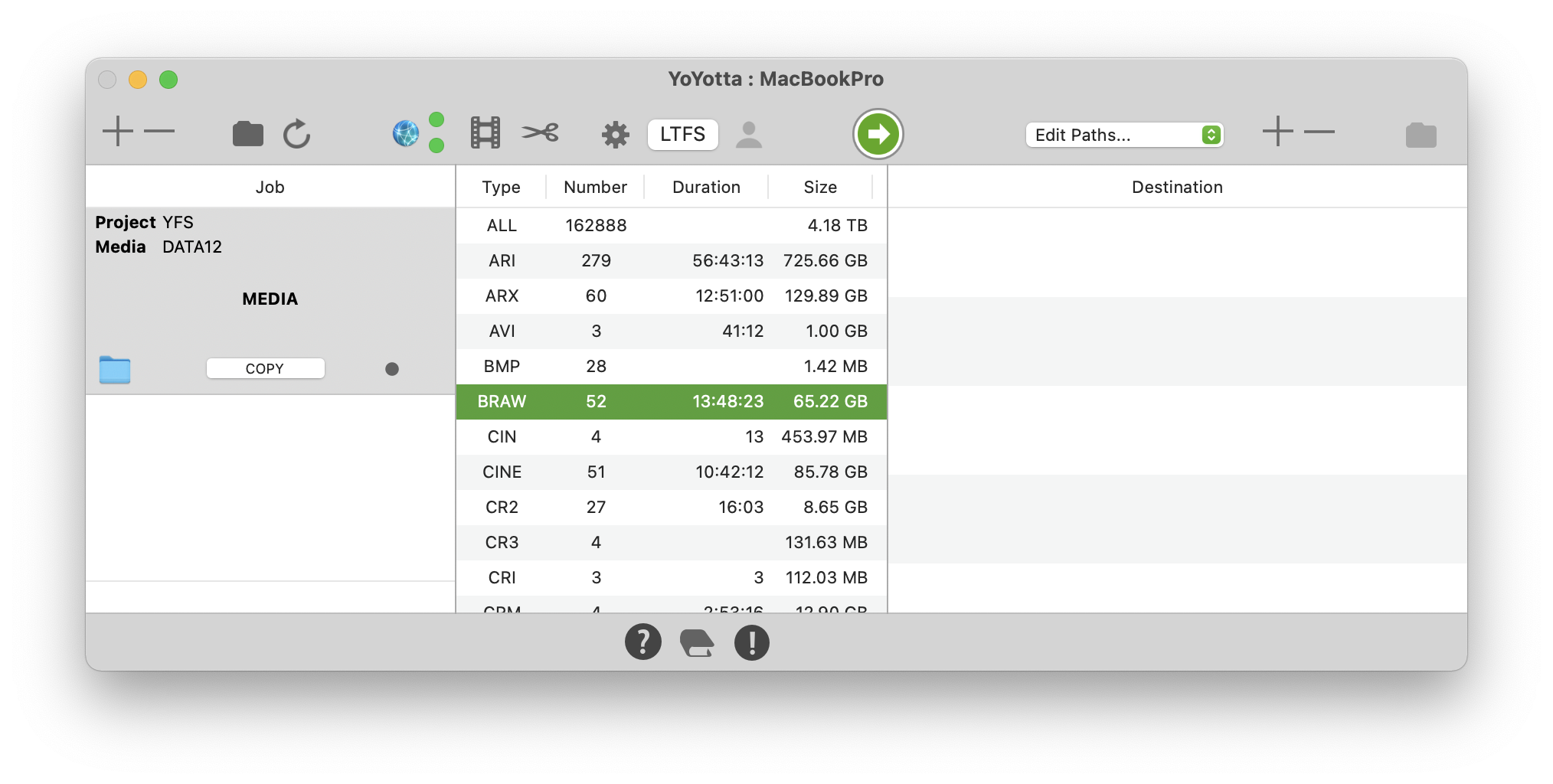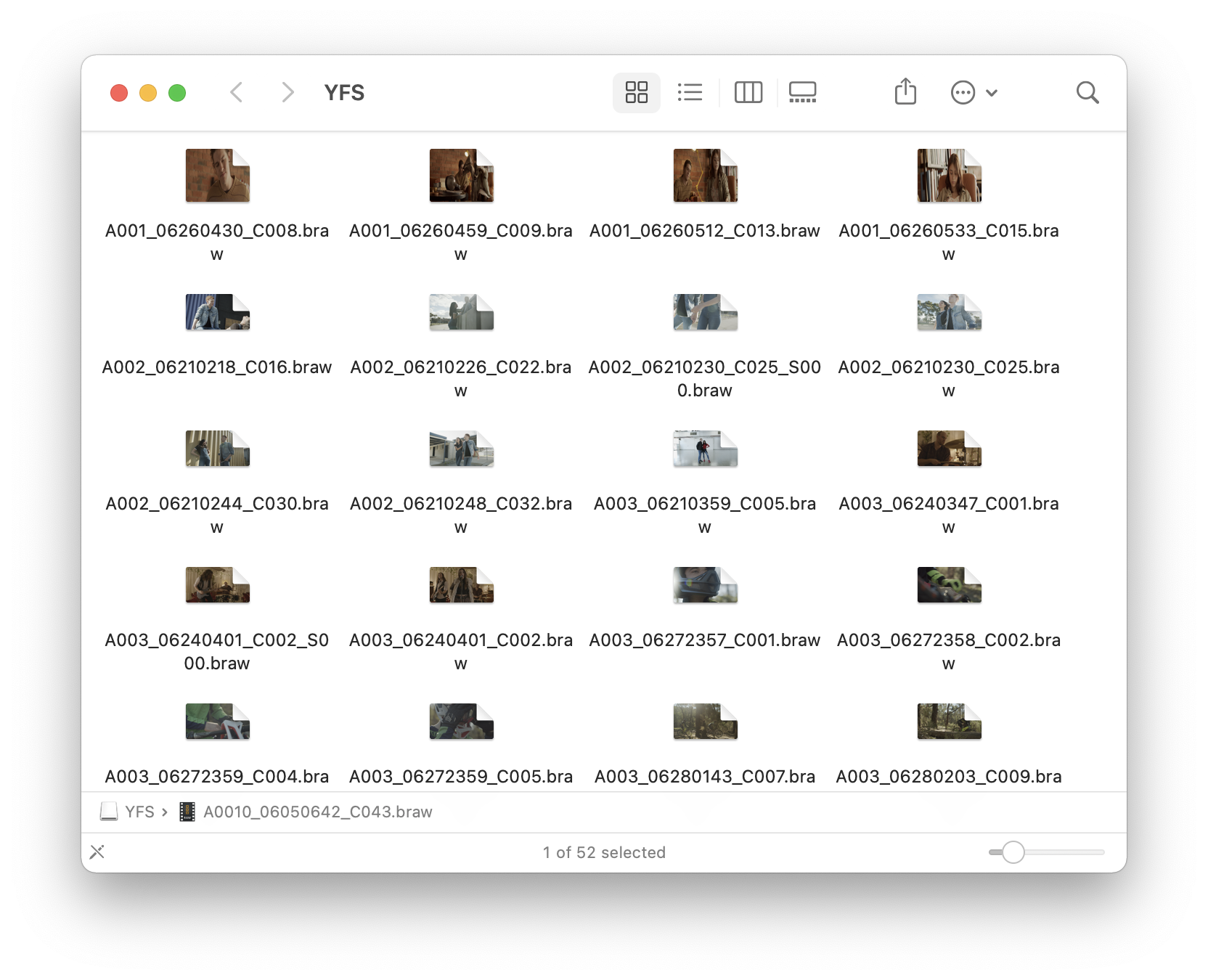 Preview selected file types using YFS (YoYotta File System)
YoYotta shows a table of common video, audio and metadata file types for each job. In this example it is easy to see that there are 52 Blackmagic RAW files on the shuttle drive, however they may be buried in folders all over the source drive. Select BRAW in the Type table and press the space key and then YFS will show you all those files in a single Finder window.

YoYotta will create a virtual file system called YFS. Here we see all of the MP4 files on the shuttle drive virtualised into one convenient folder. Then they can be opened in other creative applications. Another example would be to quickly preview all the PDF files on a source drive.

You can also filter by file type in the Source Browser.
---
Smart Queue
If you need to copy multiple high speed cards to the same RAID, then it's often quicker to process them sequentially rather than simultaneously. But this would mean waiting for each job to complete.
YoYotta will offer to add the jobs into a queue. So you can walk away and let it get on, letting you know as each completes.
---
LTO Archiving Options
If you need to restore TAR LTO tapes or archive to LTO tape using LTFS then you can add up to eight LTO drive options to yout v4 subscription.
Then YoYotta can create tape archives. Quickly create industry standard archives in the LTFS format on LTO-9, LTO-8, LTO-7, LTO-6 or LTO-5 tapes. YoYotta names, formats, mounts and repairs tape archives.
The YoYotta Library option adds control of an LTO Tape Library.
Learn about LTO and LTFS support
Learn about the LTO tape library option